TribWeek: Top Texas News for the Week of 2/25/13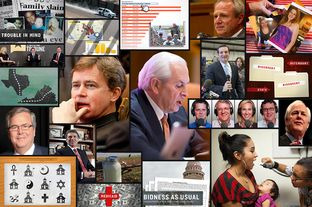 The oversight board for the Cancer Prevention and Research Institute of Texas has decided to move forward on contract negotiations for $183 million in approved grants that have been stalled by a moratorium.
Section 5 of the Voting Rights Act appears to be in danger of being overturned, according to various news outlets covering oral arguments before the U.S. Supreme Court on Wednesday.
Texas lawmakers hope to follow in Virginia's footsteps this session and revamp the way they fund transportation. While Virginia opted to cut gas taxes and raise sales taxes, Texas is looking at other options.
The 485-mile Oklahoma-to-Texas leg of the controversial Keystone XL pipeline is about half done and should be operational by late this year or early 2014, according to officials from TransCanada, the company building it.
This six-part series explores the intersections of the mental health and criminal justice systems in Texas, examining the case of Andre Thomas, a death row inmate who awaits a court decision on whether he is sane enough for execution.
The automatic federal budget cuts — known as the "sequester" — are set to go into effect Friday, and the White House has detailed how much funding each state will lose if Congress does not reach an agreement by the end of the week. Use our interactive to explore the totals by state.
At the Trib's Feb. 25 symposium on public education at Rice University, Evan Smith talked school finance, accountability, choice and other hot-button issues with state Rep. Jimmie Don Aycock, R-Killeen, the chairman of the House Public Education Committee, and state Sen. Dan Patrick, R-Houston, the chairman of the Senate Public Education Committee.
Lawmakers are preparing to examine whether the University of Texas System regents are micromanaging their flagship university, while trying to prevent the session from being overwhelmed by controversies reminiscent of 2011.
Ted Cruz has only been Texas' junior U.S. senator for two months, but he has wasted no time propelling himself into national headlines. On Tuesday, the Tribune sat down with Cruz in Washington to talk about the early days of his new gig.
Texas Tribune donors or members may be quoted or mentioned in our stories, or may be the subject of them. For a complete list of contributors, click here.