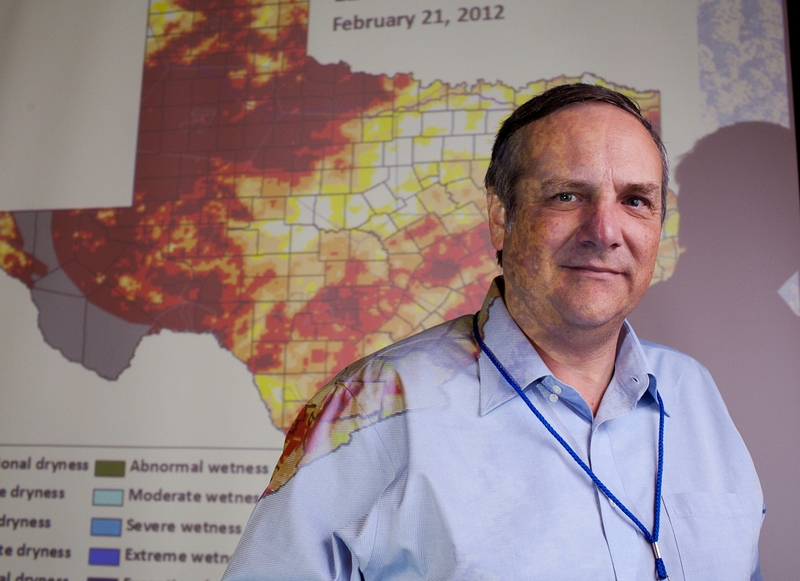 As record drought and heat in Texas have garnered more attention over the last few years, so has John Nielsen-Gammon, Texas' state climatologist.
Nielsen-Gammon said his position is part researcher, part adviser. "Basically, the job is to make sure the state makes the best use of weather and climate information," he said.
Nielsen-Gammon is also a professor of atmospheric sciences at Texas A&M University, which is requesting $284,000 from the Legislature to fully fund and expand the operations of the Office of the State Climatologist. Until now, most of the office's funding has come from the university and various research grants.
Although he has held the position since 2000, Nielsen-Gammon said his responsibilities and his exposure have increased tremendously in the past three years.
The Texas Tribune thanks its sponsors. Become one.
"I've been doing a whole lot of outreach," he said. "I get invitations for about 50 talks a month at state government workshops or industry groups, because there is so much interest and importance on what the current state of drought is and, more importantly, what the outlook is for the future."
Nielsen-Gammon said the funds would help support more researchers, improve the office's online services and alleviate some of his ever-growing workload.
"We'll hire an outreach specialist, who will be able to work with people and give talks and help out with education and also a researcher," he said, adding, "We will be able to give the climate needs to the state the attention it deserves."
Nielsen-Gammon last week warned legislators of the dangers of continued drought conditions and climate change.
State Rep. Dawnna Dukes, D-Austin, has also filed an unrelated bill on the qualifications of a state climatologist.
From StateImpact Texas
Texas Tribune donors or members may be quoted or mentioned in our stories, or may be the subject of them. For a complete list of contributors, click here.