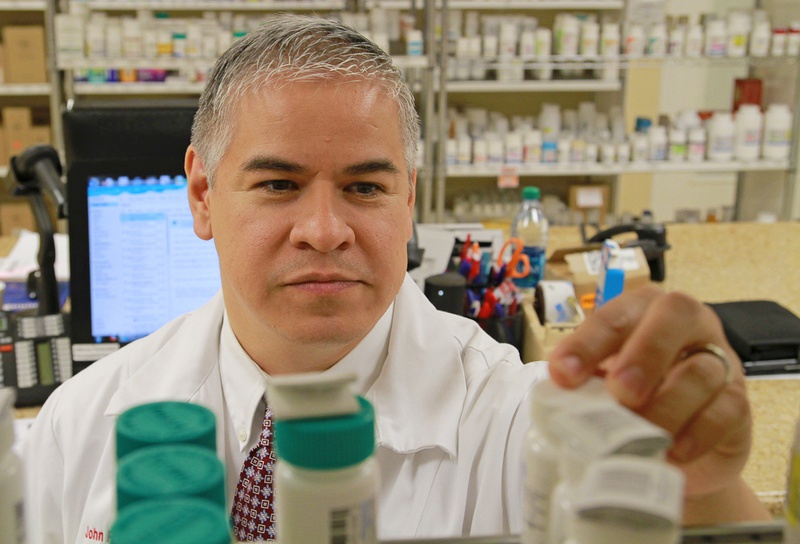 A South Texas pharmacy featured in a Texas Tribune article on independent pharmacists struggling to adapt to lower Medicaid reimbursement rates will shut its doors on Friday.
John P. Calvillo, president of the Rio Grande Valley Independent Pharmacy Association, announced Monday he would close Med-Aid Pharmacy in Mission, which he has owned and operated for seven years, as a result of the lower reimbursement rates produced by the state's expansion of Medicaid managed care.
"Our business was growing at a steady rate and our services were expanding daily," he said in an email. He added that the hit to his business occurred when the state allowed managed care organizations to contract with pharmacy benefit managers to set the rates pharmacists were paid for Medicaid prescriptions.
Until March of last year, reimbursement rates were the same throughout the state. After the state expanded managed care, pharmacists signed contracts with multiple managed care organizations and agreed to accept the reimbursement rates for medications set by each organization's pharmacy benefit manager. Pharmacists were unable to find out how much they could be reimbursed or how reimbursement rates compared before signing the contracts.
The Texas Tribune thanks its sponsors. Become one.
The Tribune reported in June that a CVS pharmacy supervisor in Dallas wrote a memo to employees noting that the reductions might "put many independent pharmacy owners in a pinch that they have never before felt," and adding that the change "poses a huge opportunity for us to grow our company and the scripts and patients that we service."
In an email to the Tribune in June, Michael DeAngelis, a spokesman for CVS Caremark, responded that the company had not authorized the memo and that CVS Caremark would face the same financial impact as independent pharmacies. "Reductions to the Medicaid reimbursement rate in Texas," he said, "are the same for both independently-owned drug stores and retail chain pharmacies."
Texas Tribune donors or members may be quoted or mentioned in our stories, or may be the subject of them. For a complete list of contributors, click here.