Study: Rates of Texas Elective Surgeries Vary by Region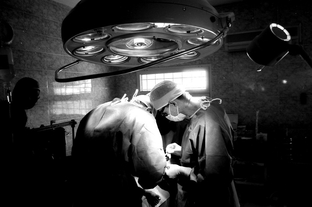 The rates of elective surgery for Medicare patients vary dramatically depending on which part of the state Texans live in, according to new research from the Dartmouth Atlas Project, which analyzes medical referrals, procedures and spiraling health care costs across the nation.
The rate of women on Medicare, the federal health insurer for the elderly, receiving a mastectomy for early-stage breast cancer between 2008 and 2010 was four times higher in Victoria than it was in Temple. In 2010, doctors performed surgery for lower back pain at a rate of 3 per 1,000 Medicare patients in the Temple area; that rate was 7.8 per 1,000 Medicare patients in the Bryan region. And the rate of hip replacement for osteoarthritis among Medicare patients in the Longview area was more than two and a half times what it was in Harlingen that same year.
Researchers with the Dartmouth Institute for Health Policy and Clinical Practice attribute the differences to physician recommendations more than patient preferences. They pointed to chronic back pain as an example: With widespread disagreement among doctors about whether or when to perform back surgery, rates vary widely by location.
"These variations reflect real problems in how medical decisions are made," John Lumpkin, the director of the Robert Wood Johnson Foundation's Health Care Group, said in a prepared statement. (The foundation is a funder of the Dartmouth project.) "Elective surgery presents choices that should be based as much on an individual's preferences and circumstances as the clinician's judgment and experience."
Here's a look at some of the biggest Texas variations, according to the Dartmouth Atlas Project's research into Medicare patients.
— The rate of knee replacement for osteoarthritis in 2010 was 7.4 per 1,000 Medicare patients in El Paso, compared with 13.7 in Victoria.
— Transurethral resection of the prostate, a surgical procedure to treat a benign enlarged prostate, varied sevenfold between men on Medicare in the Temple area (a rate of 0.9) and in Abilene (a rate of 5.8).
— The percentage of male Medicare patients receiving testing for early-stage prostate cancer — a test that can lead to false positive or in some cases unnecessary surgeries — ranges from 20.4 percent in the Temple area to 53.5 percent in McAllen.
Texas Tribune donors or members may be quoted or mentioned in our stories, or may be the subject of them. For a complete list of contributors, click here.