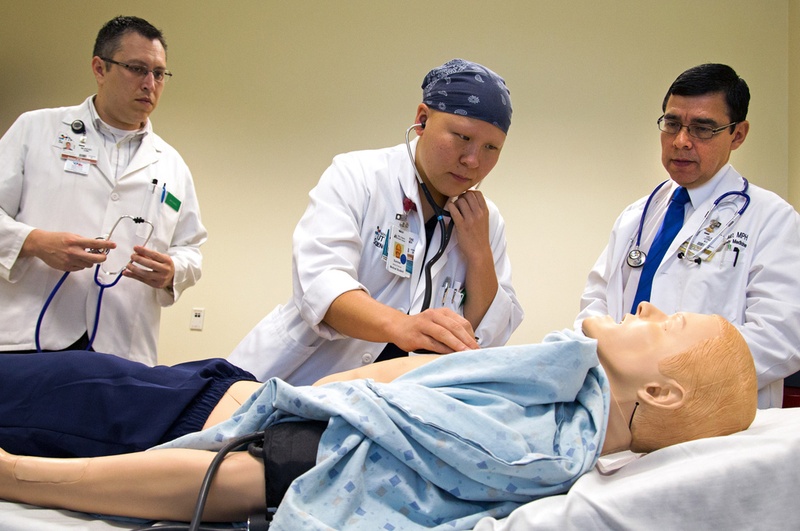 Updated, December 11: At the task force meeting on Tuesday,Texas Higher Education Commissioner Raymund Paredes withdrew the recommendation to hold off on building more medical schools, but emphasized that it was still crucial to expand the number of residency slots.
Updated, 9 p.m.: Regarding the recommendation that new first-year residency slots get established before opening a new medical school, University of Texas System spokeswoman Jenny Lacoste-Caputo said in a statement, "The bottom line is we need both."
"Establishing medical schools in Austin and South Texas have been catalysts to develop new residency slots across the state," she said. "We now have 213 residency positions in Austin, with 100 more opening up in the next several years. Chancellor Cigarroa and leadership at UT System are working to increase the number of residency slots in South Texas by an additional 100 over the next four years."

Original story: Recommendations in a new draft report on Texas undergraduate medical education caution against rushing to build any new medical schools, which may irk those that are pushing to do exactly that.
The Texas Tribune thanks its sponsors. Become one.
The report was prepared by the staff of the Texas Higher Education Coordinating Board and posted on the agency's website on Monday in preparation for an upcoming meeting of their Task Force on Graduate Health Professions.
The first of the many recommendations in the document bluntly suggests, "Additional medical schools should not be established or opened until the number of first-year physician residency positions exceed the number of graduating medical school students by 10 percent."
Questions regarding the state's capacity to handle additional medical students have dogged the University of Texas System's ongoing efforts to launch new medical schools in Austin and South Texas. Neither has yet been built, but the former is expected to enroll its first class in 2015 or 2016, while it has been announced that the latter will graduate its first students in 2018.
According to a previous coordinating board report, released in April 2012, the ratio of first-year residency slots to medical school graduates is nearly one-to-one. In 2011, there were 1,494 first-year slots and 1,464 graduates.
But the total number of graduates is currently projected to increase rapidly over the next several years, while the number of first-year residency slots is not.
By 2014, the coordinating board projects that there will be 1,565 graduates, which would require an additional 220 first-year residency slots in order for the total to exceed the number of graduates by 10 percent.
The Texas Tribune thanks its sponsors. Become one.
By 2015, the earliest year that the medical school being added to the University of Texas at Austin could open, the total number of medical graduates is projected to be about 1,674.
Throughout the process of laying the groundwork for two new medical schools, UT System officials have said the plans include an expansion of residency slots.
That will likely call for significant private support. According to the coordinating board, conservative estimates put the cost of educating a resident physician at about $150,000 per year — and the state, which does not have much money to spread around for such an initiative, has already exceeded its limit for federal support for residency slots.
The Task Force on Graduate Health Professions will meet in Austin to discuss the draft report and its recommendations on December 11.
Texas Tribune donors or members may be quoted or mentioned in our stories, or may be the subject of them. For a complete list of contributors, click here.
Reference Material