Texas Weekly Hot List — With Campaign Finance Totals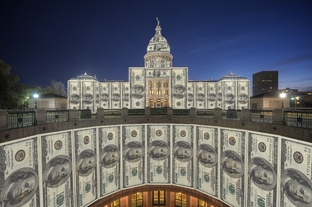 Enlarge
Illustration by Todd Wiseman / Miles Bintz
The Hotlist remains relatively static as we enter early voting (it begins on Monday and runs though Friday, Nov. 2), but this week, we've gathered the latest campaign finance numbers from the top candidates on the list. Some of the differences are surprising; for instance, in the CD-14 race to replace U.S. Rep. Ron Paul, Democrat Nick Lampson has almost eight times as much money as Republican Randy Weber, who had an expensive primary and now faces a tough general election.
Some of the numbers don't tell the whole story; in the other competitive congressional race on the ballot — CD-23 — third parties are spending as fast as the candidates.
We begin with the Hotlist itself, followed by a sortable table of the money reported raised, spent and held by the candidates as of the latest reports.
A note about the table: federal candidate totals are current as of the October quarterly and monthly filing, representing all campaign finance activity in this cycle up to Sept. 30. State candidate totals come from the 30-day reports, and reflect contributions and expenditures since the mid-year state filing.
| District | Candidate | Contributions in last filing period | Expenditures in last filing period | Cash on Hand |
| --- | --- | --- | --- | --- |
| CD-14 | Randy Weber (R) | $755,790 | $933,373 | $55,040 |
| CD-14 | Nick Lampson (D) | $969,350 | $547,482 | $421,518 |
| CD-23 | Francisco Quico Canseco (R) | $2,196,297 | $1,305,347 | $1,095,079 |
| CD-23 | Pete Gallego (D) | $1,324,517 | $1,155,641 | $114,876 |
| HD-102 | Stefani Carter (R) | $112,821 | $109,543 | $66,777 |
| HD-102 | Rich Hancock (D) | $27,245 | $4,925 | $7,380 |
| HD-105 | Linda Harper-Brown (R) | $123,450 | $68,244 | $87,997 |
| HD-105 | Rosemary Robbins (D) | $24,688 | $37,000 | $30,584 |
| HD-107 | Kenneth Sheets (R) | $280,355 | $96,777 | $146,778 |
| HD-107 | Robert Miklos (D) | $74,020 | $56,401 | $24,707 |
| HD-114 | Jason Villalba (R) | $172,886 | $147,326 | $42,612 |
| HD-114 | Carol Kent (D) | $121,236 | $89,824 | $132,748 |
| HD-117 | John V. Garza (R) | $52,560 | $72,670 | $62,372 |
| HD-117 | Philip Cortez (D) | $48,015 | $44,610 | $18,621 |
| HD-134 | Sarah Davis (R) | $332,120 | $99,583 | $232,384 |
| HD-134 | Ann Johnson (D) | $217,347 | $103,700 | $263,302 |
| HD-136 | Tony Dale (R) | $112,274 | $22,799 | $82,854 |
| HD-136 | Matt Stillwell (D) | $61,061 | $20,843 | $8,632 |
| HD-144 | David Pineda (R) | $77,358 | $49,461 | $33,428 |
| HD-144 | Mary Ann Perez (D) | $104,940 | $30,082 | $107,729 |
| HD-149 | Dianne Williams (R) | $134,990 | $56,342 | $74,222 |
| HD-149 | Hubert Vo (D) | $38,665 | $27,632 | $48,768 |
| HD-23 | Wayne Faircloth (R) | $92,890 | $46,816 | $43,089 |
| HD-23 | Craig Eiland (D) | $134,052 | $80,923 | $101,420 |
| HD-34 | Connie Scott (R) | $125,430 | $68,349 | $255,629 |
| HD-34 | Abel Herrero (D) | $69,723 | $49,667 | $25,656 |
| HD-41 | Miriam Martinez (R) | $6,500 | $8,455 | $0 |
| HD-41 | Robert Bobby Guerra (D) | $36,563 | $34,689 | $15,476 |
| HD-43 | J.M. Lozano (R) | $260,590 | $185,422 | $89,771 |
| HD-43 | Yvonne Gonzalez Toureilles (D) | $46,170 | $23,973 | $11,585 |
| HD-45 | Jason Issac (R) | $128,502 | $44,596 | $69,919 |
| HD-45 | John Adams (D) | $48,021 | $25,801 | $32,241 |
| HD-54 | Jimmie Don Aycock (R) | $123,819 | $89,701 | $153,065 |
| HD-54 | Claudia Brown (D) | $4,424 | $4,709 | $4,424 |
| HD-78 | Dee Margo (R) | $40,485 | $18,019 | $43,222 |
| HD-78 | Joe Moody (D) | $73,755 | $48,372 | $21,859 |
| SD-10 | Mark Shelton (R) | $606,856 | $153,205 | $566,825 |
| SD-10 | Wendy Davis (D) | $843,879 | $346,466 | $1,537,784 |
| SD-19 | Michael Berlanga (R) | $17,409 | $9,876 | $1,678 |
| SD-19 | Carlos Uresti (D) | $104,999 | $86,131 | $90,753 |
| SD-20 | Raul Torres (R) | $94,761 | $60,448 | $12,713 |
| SD-20 | Juan Chuy Hinojosa (D) | $167,620 | $219,859 | $424,309 |