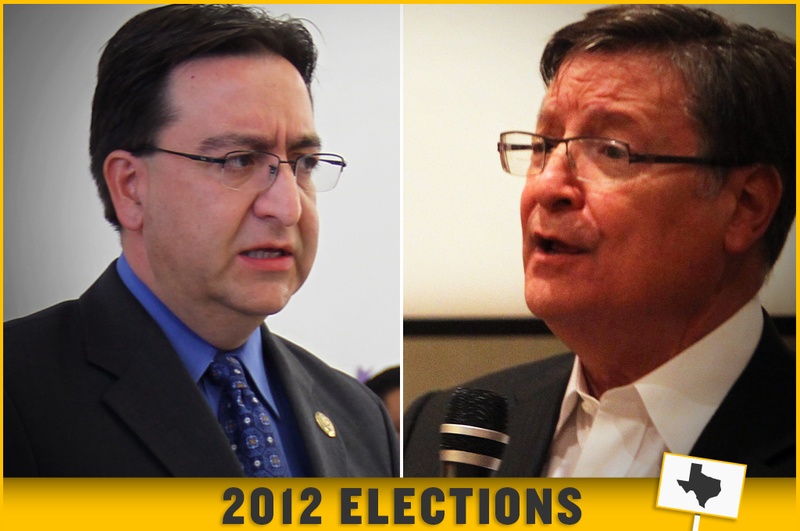 The English-speaking voters of Congressional District 23 might not get a chance to see — or at least understand — a debate of the two major candidates before Election Day.
U.S. Rep. Francisco "Quico" Canseco, R-San Antonio, and his Democratic challenger, state Rep. Pete Gallego of Alpine, debated once in Spanish a month ago. Since then they haven't appeared on stage together, and time is running out ahead of the Nov. 6 election.
Canseco's campaign is blaming Gallego, pointing to his cancellation of a debate Thursday in Del Rio and listing a string of candidate "forums" that the congressman appeared at alone. Gallego is pointing the finger right back.
"For a candidate who never tires of sending out press releases and making promises to debate, skipping all opportunities is such a blatant decision to avoid facing the voters it forces the question — is Pete Gallego intentionally misleading the voters or is he just afraid of answering for his radical environmental agenda?" said Scott Yeldell, Canseco's campaign manager.
The Texas Tribune thanks its sponsors. Become one.
Gallego spokesman Rebecca Acuña said the Democrat is ready to debate his rival.
"We're happy to hear that Quico Canseco finally wants to debate," Acuña said. "Quico Canseco needs just to name a time, date, and place."
Yeldell said there aren't any debates to agree to at this point.
"At this time, all of the nonpartisan groups that wanted to host debates are no longer willing to host, and there are no outstanding offers because the Gallego campaign keeps committing and then backing out at the last minute," Yeldell said.
Last week, the Gallego campaign issued a news release saying the candidates had agreed to a debate hosted by the Del Rio Chamber of Commerce and moderated by the Del Rio News Herald. The debate had been scheduled at an earlier date, but the sponsors had asked that it be postponed due to a request from Canseco, Acuña said.
Soon after agreeing to the new date, the Gallego campaign learned former President Bill Clinton would be campaigning for Democrats in San Antonio. So the Gallego campaign canceled the debate appearance and sought to reschedule it, but Canseco has refused, Acuña said.
The Texas Tribune thanks its sponsors. Become one.
Yeldell said Canseco went to Del Rio on Thursday as he had planned, but instead of going to the debate he went campaigning for votes door to door.
The sprawling congressional district, which stretches from San Antonio to El Paso, has drawn millions of dollars from Super PACs and groups affiliated with the two major parties. Much of the money has gone to air hard-hitting TV ads.
Texas Tribune donors or members may be quoted or mentioned in our stories, or may be the subject of them. For a complete list of contributors, click here.