In Death Row Inmate's Case, a Struggle Between Advocates and Lawyers
Preston Hughes III, who faces a Nov. 15 execution date, trusts several advocates without legal training more than his court-appointed attorney. The conflict between advocates and attorneys is not unusual in death penalty cases.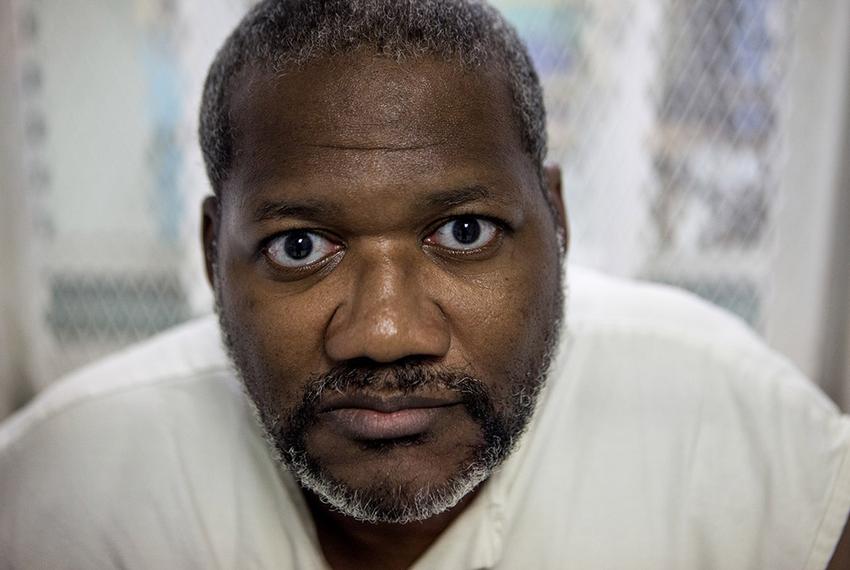 LIVINGSTON — Preston Hughes III, a death row inmate, is 46 but seems much older, with white hair, thick glasses and a quiet, slow voice that rises only when the subject of his lawyer comes up.
Hughes, convicted in 1989 of fatally stabbing two youths, has tried multiple times to fire his court-appointed lawyer, Patrick McCann. He said that McCann, who has been his lawyer for 14 years, has not raised his claims of innocence and is "helping the state cover this up."
McCann says he cannot comment on why he will not pursue these claims, which were not introduced in Hughes' original trial. But Texas and federal law set a high burden of proof for new claims of "actual innocence" so late in the judicial process, a bar that McCann said is "almost impossible" to meet.
Hughes, who says he did not commit the murders, is scheduled to be executed Nov. 15. He says all of his attorneys have failed him. "They just want to do things on their own," he said recently from death row in Livingston.
While McCann is suing the state over lethal injection procedures, arguing that prison officials would be "experimenting" on his client, a handful of advocates are publicizing what they feel is new evidence of Hughes' innocence.
The advocates, who do not have legal training, are campaigning for Hughes' exoneration and supporting his efforts to have McCann fired.
The issue of advocates doubting the work of attorneys is common in death penalty cases, especially as an execution date nears.
Attorney Kenneth Williams defended Robert Will, who maintained his innocence in the 2000 shooting of a deputy sheriff, in his recent appeals. He too faced advocates who wanted him to file innocence claims that he did not think were legally prudent.
"There can be a conflict between you and the advocates," Williams said, adding that outsiders "end up raising the expectations of the client," giving them false hope that they might be saved from execution.
"Once the lawyers do the spade work, a lot of people want to come in," said Jeff Blackburn, a lawyer who runs the Innocence Project of Texas, "and they don't understand that we're limited with the art of the possible here." He called McCann a "great lawyer."
The official facts of the crime, on their face, pointed directly to Hughes. On the night of Sept. 26, 1988, Shandra Charles, 15, and her cousin Marcell Taylor, 3, were fatally stabbed in a Houston field. A police sergeant reported that before she died, Charles identified the name "Preston" and said, "He tried to rape me."
Detectives located Hughes in a nearby apartment complex. Investigators found evidence of blood on his clothing and a knife in his apartment, as well as Charles' glasses on his couch. Hughes, who said the glasses were planted, confessed to the murder during the investigation but then denied involvement during the trial. No biological evidence tied him directly to the crime.
Convicted and sentenced to death in 1989, Hughes had multiple appeals rejected. Then, this year, several unlikely advocates became interested.
John Allen, 64, a retired engineer in California, writes a blog called The Skeptical Juror. With the help of Barbara Lunsford, an accountant in Corpus Christi, and Ward Larkin, an activist from Houston, he has spent nine months and more than 100,000 words delving into the forensic and legal details of Hughes' case. None of them are affiliated with an official organization, and while Allen has written about other convictions in the past, he said he has "ceased" looking at other cases for now.
After reviewing documents related to the trial, appeals and evidence, he deduced that Charles must have lost brain function within two minutes, and she could not have told the police the name of her attacker. "This is a seemingly overwhelming case" of innocence, Allen said, adding that he also believed that the victim's glasses were planted in the apartment based on his review of crime scene photographs.
In September, McCann said he had never heard of Allen's investigation. This week, he said Allen "sounds like a very sincere man who is attempting to right a wrong."
"Like in fantasy football," he said, "I think lots of people are happy to offer thought without skin in the game."
As for Hughes' petitions to have him replaced, McCann thinks they are the product of desperation. "When a person is drowning," he said, "they sometimes try to fight the guy holding a life preserver."
McCann agreed that Charles would have "been unconscious in a matter of seconds based on the blood loss," and so she could not have said Hughes' name to police. Despite being troubled by this evidence, he is not filing a claim of innocence. "I find myself in an odd position," he said, "because I'm ethically bound not to advance a claim I think is false."
Allen learned about the case while investigating the work of James Bolding, the head of blood analysis for the Houston Police Department's crime lab at the time, who testified at Hughes' 1989 trial. Bolding tested for blood on Hughes' knife while he was in the courtroom. Hughes said the blood came from a rabbit he had killed months before.
Judge George Godwin said at the time that he found the "cavalier attitude and lackadaisical attitude of doing tests right while we've got a jury waiting to come in and hear testimony unacceptable." He nevertheless ruled that the testimony was permissible.
Hughes said he trusts Allen more than his lawyer, McCann. In September, Hughes filed a petition to have McCann replaced, and a court rejected it.
McCann plans to follow the case to the end. In September, he sued the Texas prison system, saying that by using a single drug for the execution, as a result of a recent policy change, officials would be "experimenting" on his client. The Court of Criminal Appeals, Texas' highest criminal court, has ordered the civil court overseeing the case not to stay Hughes' execution. McCann does not know when the court will rule. "The unfortunate timing of this is it's before a contested election," he said.
McCann agrees with Allen agree that Hughes is entitled to a new trial. They both say the jury was not adequately informed that they could consider mitigating evidence of Hughes' personality and character as a reason to spare him. On Aug. 29, the court dismissed McCann's call for a new trial.
Murray Newman, a Houston defense attorney, said he believes McCann is doing his best and cares about Hughes. "He works so hard on these cases, it's like losing a family member," Newman said.
From death row, Hughes sees it differently, as he plays basketball during his hour of recreation every day, eats food he calls "pitiful" and learns about court decisions from a small, black radio.
"We don't like each other," he said of McCann. "I don't feel somebody who doesn't like me is going to do anything for me."
Texas Tribune donors or members may be quoted or mentioned in our stories, or may be the subject of them. For a complete list of contributors, click here.
Texans need truth. Help us report it.
Our Fall Member Drive is underway, and we need your support. The Texas Tribune is a critical source of truth and information for Texans across the state and beyond — and our community of members, the readers who donate, make our work possible. Will you join as a member with a tax-deductible donation of any amount?
Yes, I'll donate today
---
Information about the authors
Explore related story topics