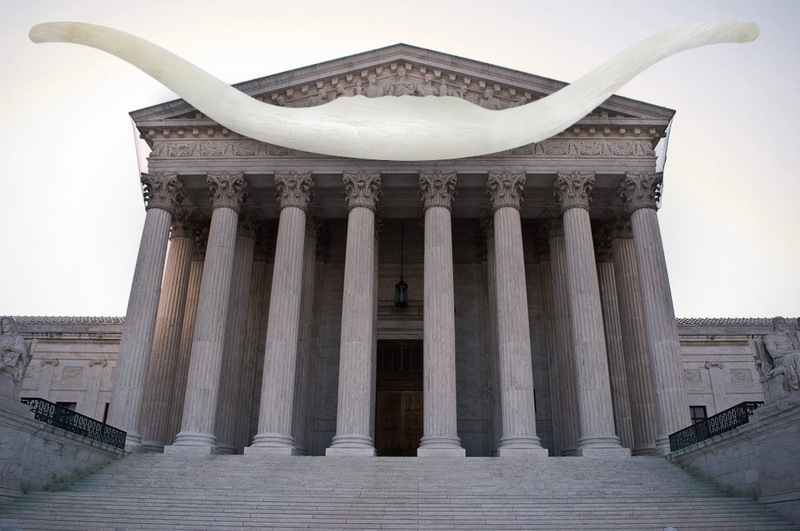 Update, 4:30 p.m.:
In a telephone call with reporters following Wednesday's arguments, University of Texas at Austin President Bill Powers said he believed his institution's lawyers had "effectively" presented their case for considering race in the admissions process before the U.S. Supreme Court.
Powers, a legal scholar, said it was difficult to gauge how the justices would rule in the Fisher v. the University of Texas at Austin case based on their questions. "I think the set of questions was typical of justices trying to clarify a number of points," he said.
Much of the discussion in the courtroom centered around how to define "critical mass" when it comes to diversity. That's what UT claims to be aiming for with its current practice, which the university argues is compliant with the Supreme Court's 2003 decision in Grutter v. Bollinger.
Powers said it is the make-up of students necessary to "perform a particular educational goal." He defined that goal as a situation wherein "a sufficient number of classrooms for a sufficient number of students as they matriculate through UT, and in the campus generally, have the kind of educational environment that is going to prepare them for working in an increasingly global and diverse world."
"We are not there yet," he said.
A judgment in this case is expected in the spring of 2013.
Original story:
WASHINGTON — How to define a "critical mass" of minority students was the question of the day on Wednesday during a heated Supreme Court oral argument on the consideration of race in the University of Texas at Austin's admissions processes.
Nine years ago, in the case Grutter v. Bollinger, the high court upheld the University of Michigan Law School's practice of considering the race of applicants to guarantee a "critical mass" of minority students — so long as there were no quotas, and that the practice was narrowly tailored to consider all other factors ahead of race.
The court is now reconsidering the role of race in admissions in the case of Abigail Fisher, a white student who was denied admission to UT in 2008. Claiming that minority students with less academic and extracurricular achievement were accepted over her, she sued the university on the grounds that it violated the 14th Amendment's Equal Protection Clause.
"There was no effort in this case to establish a target for critical mass," Bert Rein, Fisher's attorney, said of UT's admissions policy. "Absent of the use of race [in admissions decisions], can we establish a critical mass" of minority students?
Justice Sonia Sotomayor asked Rein to define "critical mass." She pointed out that prior to the Grutter ruling, 4 percent of the student population at UT was African-American; today, it is 6 percent.

"Is that enough to achieve critical mass, with a 2 percent increase?" she asked.
Sotomayor then questioned whether Rein was suggesting a quota system in order to determine what constitutes a "critical mass" of minority students, which is prohibited under previous Supreme Court rulings.
Rein dismissed the idea that the university should use quotas. But he said UT needs some way to know when it has reached the appropriate threshold in order to satisfy the court's condition in Grutter that the use of race be narrowly tailored.

"You can't tailor to the unknown," he said. "If you have no idea of what the critical mass is, how can you narrowly tailor?"

Rein's other argument, that UT's use of race in admissions isn't narrowly tailored, revolved around the state's top 10 percent rule — since changed to a top 8 percent rule — which grants students graduating from high school automatic admission to Texas colleges and universities if their GPAs rank among the best in their class.
College applicants not admitted automatically under the rule are reviewed based on academic achievement, personal achievement and any relevant circumstances, one of which is race. But Rein argues that since so many of UT's minority students are already admitted under the top 10 percent rule, there's no need to consider race in the remaining applicant reviews.
Rein said race is not necessary to achieve diversity on campus, and that UT failed to narrowly tailor the use of race in admissions because it did not consider other alternatives before turning to affirmative action.
When Gregory Garre, an attorney for UT, took the stand, the questions of critical mass continued to mount — in particular from Chief Justice John Roberts and Justice Samuel Alito.
Roberts insisted that the Grutter ruling called for some specific endpoint in race-based admissions, and that barring that, the use of affirmative action could not be narrowly tailored.
Garre responded that the university determines critical mass by conducting surveys asking students whether or not they feel racially isolated, and using other enrollment data.

"How am I supposed to decide whether you have an environment within particular minorities who don't feel isolated?" Roberts asked.
Justice Ruth Bader Ginsburg then asked why the top 10 percent rule wasn't sufficient enough to achieve diversity. Garre said that with no race-based admissions, and sole reliance on the top 10 percent rule, minority enrollment would be stagnant.
"African-American admissions doubled from the period of 2002 to 2004," Garre said. "So this has had a real important impact on diversity at the University of Texas."

Outside the courthouse, UT President Bill Powers released a statement saying the top 10 percent rule is a good tool but doesn't get the university far enough at achieving real diversity.
"We have made a great deal of progress, but there is still a great need to make sure our campus is diverse," he said.
Jessica Huff is a senior reporter with The Horn, which is partnering with The Texas Tribune to cover the Fisher v. University of Texas at Austin case this week at the U.S. Supreme Court.
Texas Tribune donors or members may be quoted or mentioned in our stories, or may be the subject of them. For a complete list of contributors, click here.
Reference Material