First Lady, Chavez-Thompson Tout Latinos' Role at DNC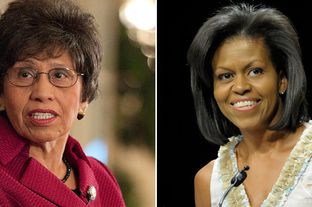 Enlarge
Illustration by Caleb Bryant Miller / Studio 8 Denver
The morning after San Antonio Mayor Julián Castro's keynote speech, and minutes before remarks from first lady Michelle Obama, longtime labor organizer and onetime Texas lieutenant governor candidate Linda Chavez-Thompson had the Democratic National Convention's Hispanic Caucus on its feet.
Chavez-Thompson, a DNC vice chairwoman, former national AFL-CIO executive vice president and storied figure among Hispanics, told a roaring crowd Wednesday that Latinos are "the determining factor in this election," and that President Obama "has fought every single day of his presidency to … make Latinos more important in this country."
The first lady followed by referencing Tuesday night's speeches, saying they "really reflected Barack's raw, inclusive vision for this country." Whether it's health reform or fighting for the DREAM Act, she said, "we should all have a fair chance to make it in this country if we're willing to work for it, which I know we are."
Chavez-Thompson, the daughter of a sharecropper, left school in the ninth grade to work in Texas cotton fields. She has adopted San Antonio as her hometown, and said she was proud of her mayor, whose keynote address "brought tears to the eyes of many of us because we remember our parents, our grandparents, their struggles."
Calling Obama "an honorary Latino," Chavez-Thompson said the president "has touched my heart, he has touched my culture."
"We gave the president 60 percent of our vote the last time around," she said. "I am holding each and every one of you responsible for making that 80 or 90."
Texas Tribune donors or members may be quoted or mentioned in our stories, or may be the subject of them. For a complete list of contributors, click here.