On the Records: State Agency Executives' Pay Detailed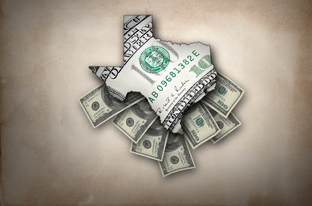 Enlarge
Illustration by Todd Wiseman
The state auditor's office on Friday released a report that breaks down the salaries of state agency executives in an effort to assess the current salary landscape at the executive level and identify pay disparities.
The study was conducted because of a section in the 82nd Legislature's appropriations bill that ordered a review of the compensation of exempt state employees. State workers holding exempt positions include executive officers who oversee the the state's various agencies.
For the study, the auditor's office included 74 executive officer positions, one director-level position at the Bob Bullock Texas State History Museum, elected officials, the secretary of state, appellate court judges and other executive officers for semi-independent agencies.
Here are a few findings:
Eleven executive officers were among the 30 highest-paid management employees at state agencies. The remaining 19 positions were in other management positions.
The Employees Retirement System's executive director, Ann Bishop, ranked first ($312,000 + bonus); the Department of Transportation's executive director, Phil Wilson, ranked second ($292,500); the Treasury Safekeeping Trust Company's chief executive officer, Paul Ballard, ranked third ($292,000); and the Teacher Retirement System's executive director, Brian Guthrie, ranked fourth ($270,000).
Eight of the 30 highest-paid positions can be found in the Department of Transportation.
The auditor's office also found that some employees' pay exceeded or came close to their own superiors: A total of 181 employees at 12 state agencies had salaries that exceeded the annual salaries of the executive officer at their agencies. A total of 107 employees at 37 state agencies had salaries that were the same as or within 10 percent less than the annual salaries of the executive officer at their agencies.
The largest example of this can be found in the Department of State Health Services, where 107 physicians and/or psychiatrists receive more compensation than the DSHS director.
The entire report has been embedded below.
Of course, at The Texas Tribune we know a little about government employee salaries as well, and our database is a fine companion to the report. Our database currently contains the records of 670,000 state employees from across the state and includes data for employees of the state of Texas.
Texas Tribune donors or members may be quoted or mentioned in our stories, or may be the subject of them. For a complete list of contributors, click here.