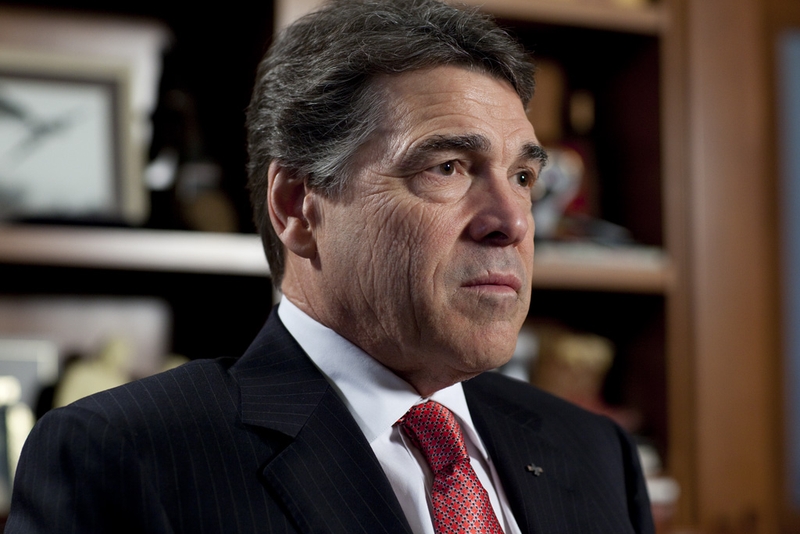 Gov. Rick Perry, who called on Mitt Romney to cough up his tax returns when they were running against each other, stopped short Tuesday of pressing the presumptive Republican nominee to produce more records.
Perry said candidates for public office should be "as transparent as you can be with your tax returns and other aspects of your life," but he wouldn't directly answer whether Romney should produce more than the two tax returns he has promised to give the media.
Instead, Perry pivoted to President Obama, saying he should make his college transcripts available for public inspection.
"I certainly think it is inappropriate for the president of the United States to not [make] his college transcript and his law school transcripts public, that he should make those available," Perry said. "I'm all about transparency."
The Texas Tribune thanks its sponsors. Become one.
Pressed again to say whether that meant Romney should produce more tax records, Perry would not specifically recommend he do that as other conservatives have.
Perry said politicians should "within reason … give people background about what they've been doing, including tax returns."
It was a far cry from the indignation Perry expressed in 2010 when Democrat Bill White declined to give the media 15 years worth of tax returns as the Republican governor demanded. White had released tax returns back to 2004, covering all the years he had been Houston mayor, but Perry said that wasn't good enough — and he refused to debate him as a result.
Two days before pulling out of the GOP presidential race in January, Perry also pressed Romney to release his tax returns during a televised debate. At that point, Romney had not given the media any of his returns.
"Mitt, we need for you to release your income tax so the people of this country can see how you made your money. I think that's a fair thing," Perry said then. "We cannot fire our nominee in September. We need to know now."
Other conservative pundits and politicians, including U.S. Rep. Ron Paul, columnist George Will and commentator Bill Kristol have called on Romney in recent days to give out more tax records. Many commentators say his refusal to release the records is becoming a costly distraction for Romney.
The Texas Tribune thanks its sponsors. Become one.
"He should release the tax returns tomorrow. It's crazy," Kristol said last weekend on Fox News Sunday. "You gotta release six, eight, 10 years of back tax returns. Take the hit for a day or two."
Texas Tribune donors or members may be quoted or mentioned in our stories, or may be the subject of them. For a complete list of contributors, click here.