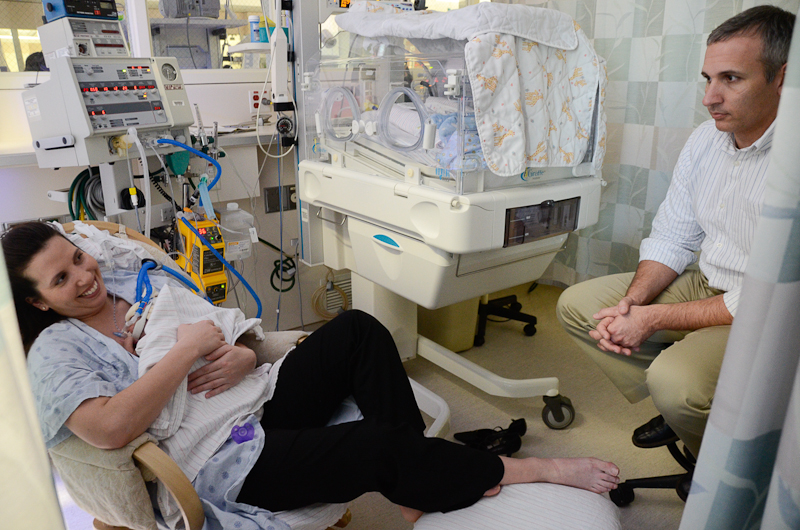 A new state health program launched this week aims to reduce the number of women on Medicaid whose newborns require costly neonatal intensive care.
The program establishes a 24-hour hotline for women at risk of a premature delivery — such as those who have had one before — that will advise them on how to take care of themselves during their pregnancy. The Texas Health and Human Services Commission hopes it will save the state $32.5 million within two years of its implementation. But agency spokeswoman Stephanie Goodman said it's expected to start saving money within — no surprise here — nine months. Medicaid currently pays for more than half of the state's births, and premature deliveries cost the state millions of dollars a year.
"One of those babies is more than 18 times the cost of a regular newborn," Goodman said. "If we can reduce that, we can save a lot of money."
The move comes as Texas looks to tighten its budget across the board, and in particular, to reduce escalating medical costs. As part of the effort to cut costs in Texas Medicaid, the state implemented a new policy last fall to stop covering births when mothers or doctors unnecessarily induced labor (elective inductions are proven to send more babies to the NICU). The change was projected to save $4 million over two years.
The Texas Tribune thanks its sponsors. Become one.
Goodman said HHSC hopes the new program for at-risk mothers will reduce the number of infants who require neonatal care, and that the extra scrutiny hospitals face will encourage them to only offer the care to those who truly need it.
"I think they'll know the state is watching them more closely," she said.
The state is still trying to decide whether to accept federal funding and expand Medicaid, as prescribed by the Affordable Care Act, but Goodman said that decision will not affect this program.
Texas Tribune donors or members may be quoted or mentioned in our stories, or may be the subject of them. For a complete list of contributors, click here.