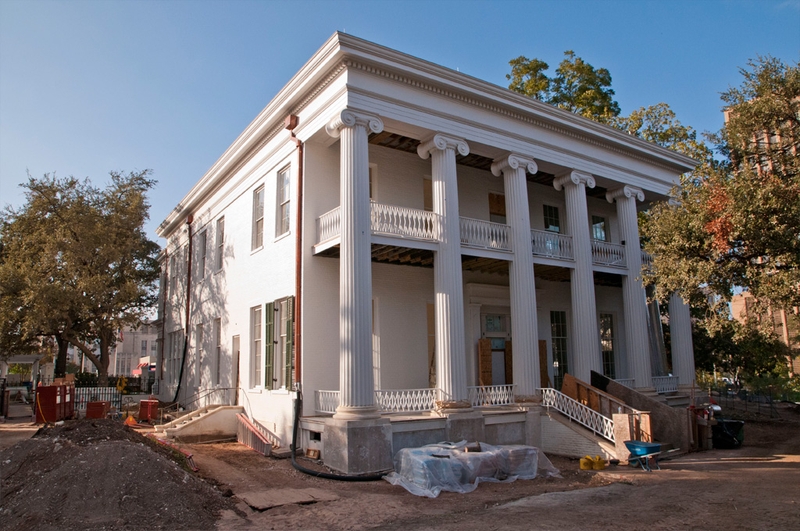 Restoration of the Texas Governor's Mansion is taking a giant leap forward Wednesday, with the return of historic furnishings to the building.
"The historic Texas Governor's Mansion has been a symbol of Texas pride and resilience for decades, and now as its restoration nears completion, we enter a new chapter in its history," Texas first lady Anita Perry said.
"Returning these important pieces to their rightful place in the Governor's Mansion brings us one step closer to completing the restoration of this Texas treasure, which is one of the cornerstones of our state's rich heritage."
Gov. Rick Perry and the first lady are expected to return to the mansion, the oldest of its kind west of the Mississippi River, late next month. They have been living in a rental mansion in a gated neighborhood in the hills west of Austin.
The Texas Tribune thanks its sponsors. Become one.
The mansion nearly went up in smoke on June 8, 2008, when an unknown arsonist tossed a Molotov cocktail on the front porch. Now, more than four years later, a careful restoration of the Greek Revival structure is almost complete.
Though the roof and front windows were destroyed during the blaze, most of the building — including the elaborate ceiling cornices and pine wood subflooring — survived. All of the furnishings, light fixtures and historic artwork, which had been put in storage before the fire, are to be returned to the building.
The Perrys had already moved out of the mansion in 2007 so the state could give it a facelift and upgrades including a fire safety system. Luckily, project managers had already removed all of the historic artifacts — including Sam Houston's four-poster bed. It was designed to accommodate Houston's large frame and cost the state $30 at the time.
Also headed back to the restored residence: Stephen F. Austin's writing desk; numerous antique light fixtures and irreplaceable paintings, such as a portrait of Davy Crockett and The Fall of the Alamo by Robert Onderdonk; and the Governor's Memento Collection, a tradition that was started by first lady Jean Houston Daniel, wife of former Gov. Price Daniel, which includes gifts given to governors over the years.
Last week, workers installed historic large chandeliers throughout the first floor, officials said.
The Legislature appropriated $21.5 million for the mansion restoration, and private donors are chipping in another $3.5 million.
The Department of Public Safety is still offering a $50,000 reward for information that leads to the arrest of the arsonist. Anyone with information related to fire is urged to call Crime Stoppers at 1-800-252-TIPS (8477) or the state fire marshal's arson hotline at (988) 252-8477.
Texas Tribune donors or members may be quoted or mentioned in our stories, or may be the subject of them. For a complete list of contributors, click here.