April Jobs Report: Growth in Texas Economy Slowing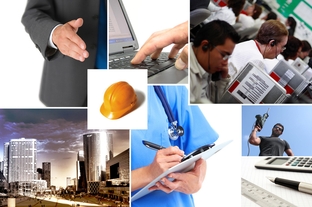 Enlarge
Illustration by Todd Wiseman / www.sxc.hu
Texas added 13,200 jobs and the unemployment rate dropped to 6.9 percent in April, according to the latest statistics released by the Texas Workforce Commission. Although April marks the 21st month in a row that the state gained jobs, the service industry actually declined by 800 jobs, predominantly because of 4,300 jobs lost in the leisure and hospitality industry.
Economic growth has slowed since January, and at the same time, the employment rate steadily declined from 7.3 percent in January to 6.9 percent in April. The slow growth in April isn't a big setback, as the the private sector has produced 277,100 jobs over the last year.
"The Texas economy continues to add jobs, with 10 of 11 major industries growing over the past year," said Andres Alcantar, the newly appointed chairman of the Texas Workforce Commission. Gov. Rick Perry appointed Alcantar on May 1, replacing Tom Pauken, who continues to work for the TWC as the commissioner representing employers.
Although the public sector added 1,000 jobs in April, government has shrunk by 51,300 jobs over the last year. The sizable loss of government jobs has dampened the state's overall economic growth but should not affect short-term job gains in the private sector, economists say. (Visit this interactive for more on specific cuts at state agencies.)
"The government sector will be less of a drag on the economy than last year, I'm pretty confident in that," said Keith Phillips, an economist at the Dallas Federal Reserve. The recent increase in sales tax revenue reported by the state comptroller, combined with fairly stable or increasing property values across the state, should help school districts that felt the brunt of state budget cuts last legislative session, he added.
From a long-term perspective, cutting government jobs efficiently can stimulate private sector activity, said Ray Perryman, an economist in Waco, but "what we have is much more a case of trying to hit an arbitrary number than any systematic analysis of government efficiency." Although the Texas job market is strong, he added, it's very unusual to have this many public-sector job losses in the early stages of an economic recovery.
"The bigger concern is the long-term consequences for economic growth if we fail to provide adequate resources to accommodate the education and infrastructure needs of an expanding population," Perryman said.
As the Tribune reported Thursday, Texas is now one of five "minority-majority" states in the nation, and the growth of minority populations continues to outpace the growth of the non-Hispanic white population. Demographers have also said paying attention to the expanding minority population and its impact on the Texas labor force will be essential to the state's future economic growth.
Texas Tribune donors or members may be quoted or mentioned in our stories, or may be the subject of them. For a complete list of contributors, click here.