New Rules Could Mean Less Affordable Housing
Housing reforms quietly approved by Gov. Rick Perry late last year were intended to address concerns over fairness and transparency. But the unintended consequences could mean fewer affordable housing developments.
In many ways, the planned site for a huge affordable apartment complex in South Dallas seemed perfect.
The project, known as Hatcher Square, sits next to a train station and bus lines; it is close to jobs, churches and community centers, and surrounding residents have widely supported its construction.
But according to its backers, Hatcher Square will be all but impossible to build under new state rules that govern the lucrative subsidies developers rely on to build affordable housing.
The rule changes, approved in late 2011, were intended to address two major concerns: that the Texas Department of Housing and Community Affairs has unfairly funneled housing for the poor into low-income, minority areas; and that the agency's board was using its power over subsidies too freely and without sufficient transparency.
Many developers and affordable housing advocates agree that the new rules were drafted with good intentions. But they fear that the changes could make it much more difficult for projects to be built in cities.
Studies have shown that building low-income housing in higher-income areas can dramatically improve the life chances of poorer families, who benefit from better schools and safer neighborhoods, for instance. But advocates of inner-city housing say families who make that move also can lose the benefits of public transportation, and can lose touch with their extended families and community support networks.
"It is going to limit the diversity of the types of projects that are built," said John Greenan, executive director of the Central Dallas Community Development Corporation. "We're going to see projects in exurban areas where they have good schools and where it doesn't have a high minority population."
The Rev. Donald Parish, a South Dallas pastor involved in the Hatcher Square project, said he understands that the state shifted its rules in an attempt to correct problems with its policies. "But this makes it impossible to do a development in situations like ours," he said, "where you have decades of red-lining and the only way to get a development done is to have help."
Changing the rules
Historically, developers have won the most-coveted government incentive — known as a 9 percent tax credit subsidy — in two ways.
First, the state housing agency rates projects on a complex scoring system. The highest-scoring projects in each region then win tax-credit subsidies for 10 years that developers can sell on the open market to raise financing for their projects. In return, projects must keep housing units affordable and available to low-income tenants for at least 30 years.
The 222-point scale rates projects on everything from financial backing to neighborhood support. The competition among projects is fierce.
"One or two points is absolutely critical," Greenan said. "It is that tight."
For projects that do not win on their scores, there has long been another way to get subsidized by the government: by direct action of the state housing board. Through the years, an increasing number of projects have been subsidized in this way, despite a past scandal involving a board member's conviction for bribery for her role in helping developers win tax credits.
But both ways of gaining tax subsidies changed dramatically late last year.
In the wake of a federal lawsuit challenging the concentration of affordable housing in low-income areas, the state shifted its scoring to reward projects in higher-income or downtown areas. Under the new scoring, developers miss out on four possible points by building in lower-income areas.
Simultaneously, Gov. Rick Perry stripped the authority of the state board to grant tax subsidies outside the scoring system.
Subsidies outside the scoring system
The board's power to bypass the points system goes back decades. Originally, so-called forward commitments were designed to facilitate the quick construction of housing after natural disasters, like hurricanes. The subsidies are called forward commitments because they are drawn from a pot of money allocated for one year after a board grants the award. The "forward" is good for 10 years' worth of tax assistance.
Over the years, the board leaned more heavily on the discretionary awards — and not just in emergency cases — drawing questions about whether the process was open to influence by politically connected developers. The percent of annual tax-credit financing awarded in forward commitments peaked in 2010 at 27 percent, or $15 million of the roughly $57 million allocated for the following year. That was up from 7 percent just five years earlier. The amount dipped back down to 19 percent in 2011, amid growing concerns about the practice, but it was still higher than all but two years in the previous decade.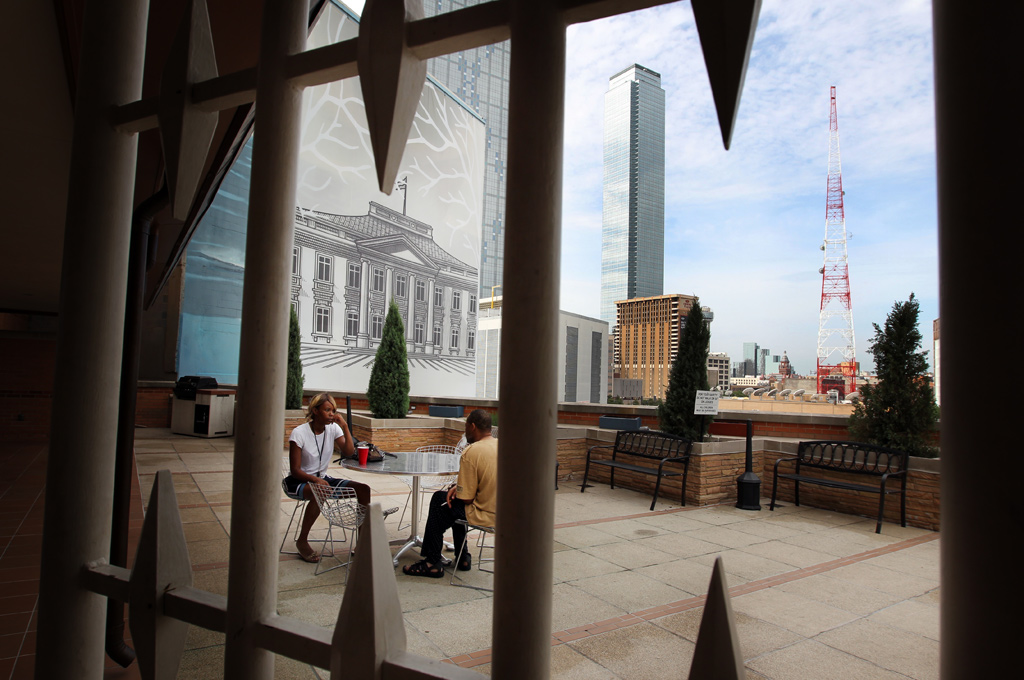 Enlarge
photo by: Kye R. Lee / The Dallas Morning News
At the housing board's meeting in September, no fewer than a dozen state lawmakers showed up or wrote letters requesting discretionary tax credits for their local projects. But, at the meeting, there were also complaints about the forward-commitment process from the board's vice chairman, the housing department's deputy executive director and from two developers who called the system unfair.
Two Democratic state representatives from El Paso, Joe Pickett and Marisa Marquez, sent letters to the housing agency suggesting the practice should end.
Pickett said in an interview that he grew tired of the same few developers fighting over El Paso tax credits and showing up in his office begging for letters of support — letters developers need to boost their scores on tax-credit applications.
"It just smelled funny," Pickett said. "It seemed like some friendly board wanted to give them something."
Marquez said forward commitments did not allow the region to plan for the unforeseen because available subsidies were getting overbooked. "It just didn't seem equitable, didn't seem fair, wasn't transparent," she said. "It didn't give us any flexibility for any kind of growth."
A tipping point in Dallas
In October, a major controversy arose in Dallas over claims that the board had unfairly favored one developer over another.
The accusations came after the board cast a split vote to grant $20 million in forward commitment subsidies to Copperridge, a low-income apartment project located near UT Southwestern Medical Center.
At the time, Copperridge was represented by Bill Fisher, a developer best known for testifying for the government in a recent housing subsidy scandal at Dallas City Hall. When the board selected Copperridge, it passed over higher-scoring projects, including Hatcher Square, which supporters viewed as a capstone in the Fair Park redevelopment project.
Backers of Hatcher Square cried foul, asking state housing officials and Perry's office to review the circumstances surrounding the award to the company Fisher worked for. They also raised questions about Fisher's past.
Fisher quickly separated himself from his longtime employer and from the project, but not before both the governor's office and the state board began looking more carefully at the award. Copperridge became the final straw. In December, Perry issued a halt to forward commitments.
In January, the board backed away from giving Copperridge a tax subsidy.
Kathy Walt, Perry's deputy chief of staff, said in an interview that she never saw any evidence of wrongdoing around the Copperridge award. But questions about it raised enough concerns that she instructed her staff to take a fresh look at the entire forward-commitment process, she said.
"Certainly, there was a feeling among those who didn't get forward commitments that it was unfair," Walt said. "When you're looking to try to develop a very level and fair playing field in an agency that years ago had been marked with scandal, in a program that is highly coveted by developers, you want to eliminate the nonobjective criteria to make sure it's above reproach — that there is absolute confidence that this is a fair system."
Dallas lawsuit spurs changes
Late last year, as the governor's office was preparing to end the forward-commitment process, top officials in the state housing department were reworking the scoring system. Their goal was to tip the scale toward projects proposed in higher-income communities or in the central business districts of large cities.
Those changes can also be traced to Dallas. In 2008, a local nonprofit group called the Inclusive Communities Project sued the state housing agency on grounds that it promoted segregation by drafting rules that pushed low-income developments into minority areas.
In March, Chief Judge Sidney A. Fitzwater of the Federal District Court in Dallas ruled that the agency and its board unintentionally discriminated against minorities through its policies and decisions. He ordered it to submit to him a plan for corrective action by late this month.
Because of the ongoing lawsuit, state housing agency staff and board members declined to comment for this article.
But many developers and housing advocates said they believe that the new rules the agency submitted to the governor's office for approval late last year amount to a first draft of the changes Fitzwater will see from the housing agency this month.
A tough road for projects in poor areas
The seismic changes for subsidies — the new scoring and the halt to direct awards by the board — have widespread implications for the locations of future affordable housing projects, several developers said.
For one thing, the path to build projects in lower-income areas will be much tougher. The agency will reward projects in "high-opportunity areas," defined as census tracts with higher median incomes and good schools or access to transportation.
Dorothy Hopkins, president of the nonprofit group Frazier Revitalization Inc., said the changes have made it all but impossible to win subsidies to build Hatcher Square.
"It does seem odd to me that low-income housing tax credits should be for low-income housing, but if you're in a low-income area, you get penalized," she said.
For the short term, there will be some push to build projects in downtown areas. But Greenan, the developer already connected to two low-income projects in downtown Dallas, noted that the downtown point advantage is temporary. Once a subsidized project is built in a census tract, the points a new project can earn for locating in that same tract are reduced or eliminated. When points can no longer be gained for locating downtown, he said, developers will shop higher-income areas for competitive sites.
But do not expect them to seek properties in wealthy suburban areas, several developers agreed. First, land costs are too high. Second, projects are still heavily penalized under the points system if neighborhood groups oppose them.
"There is a stigma," said Dan Allgeier, vice president of the affordable housing developer NuRock Companies. "The neighbors don't want it. The school district doesn't want it. There is always an issue."
Texas Tribune donors or members may be quoted or mentioned in our stories, or may be the subject of them. For a complete list of contributors, click here.
Your New Year's resolution list isn't complete without …
… supporting the Tribune. This new year, resolve to do your part to sustain trusted journalism in Texas. Join thousands of readers who power The Texas Tribune's nonprofit newsroom.
Donate now