The Brief: May 2, 2012
A major resignation has become the latest chapter in the state's high-profile debates over public education.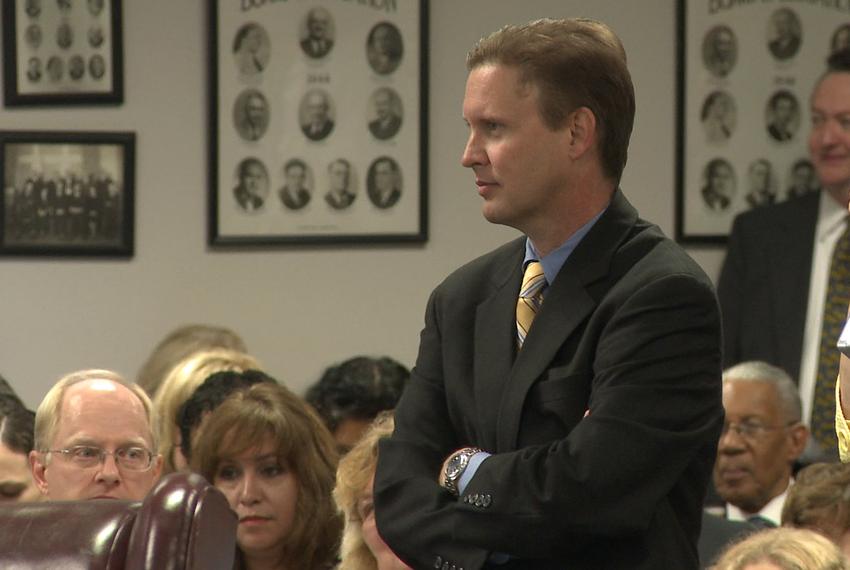 The Big Conversation:
A major resignation has become the latest chapter in the state's high-profile debates over public education.
As the Tribune's Morgan Smith reported Tuesday, Texas Education Commissioner Robert Scott will step down from his post in July, five years after Gov. Rick Perry appointed him to the position. "It's time," Scott said in a statement.
Scott's departure comes as the state's public education system grapples with a $5 billion funding cut approved by the Legislature in 2011. Since then, Texas schools have shed more than 25,000 employees, and the TEA has cut a third of its staff. Scott once told lawmakers that asking what parts of the education system should be funded was like asking "a guy on the operating table whether wants his heart or his lungs back."
Scott, whose visibility has increased over the years as Texas was thrust into the middle of several national debates over public education, also made headlines in January when he told a gathering of school administrators that student testing in the state had become a "perversion of its original intent" and that he looked forward to "reeling it back." The comments fueled speculation that Scott would soon step down.
During Scott's tenure, Texas also became one of the first states to refuse federal Race to the Top funding, which Scott said would have forced Texas schools to adhere to national common core curriculum standards.
In a press release, Perry praised Scott's time as head of the agency. "Robert's experience and dedication have left a lasting imprint on our state's education system and countless Texas children, ensuring a top-notch education for our students and their preparation for success in and out of school," he said. "I'm thankful for his service and wish him all the best in the future."
Culled:
Reversing a district judge's Monday ruling, Judge Jerry Smith of the 5th U.S. Circuit Court of Appeals ruled Tuesday morning that the state may begin removing Planned Parenthood from the state's Medicaid Women's Health Program. The state's Health and Human Services Commission said the state would "fully enforce state law today and exclude abortion providers from the Women's Health Program." Attorneys for the Planned Parenthood affiliates submitted a brief to the court on Tuesday requesting that Smith repeal the stay.
U.S. Senate candidate Ted Cruz on Tuesday released two new ads featuring supporters from around the state. One of the ads, which will start airing Wednesday, marks Cruz's first purchase of airtime on the more expensive broadcast networks, on which only Lt. Gov. David Dewhurst and Tom Leppert have aired ads. So far, Cruz has only purchased airtime on cable networks.
The federal government on Tuesday awarded $61 million as part of the Affordable Care Act to improve and establish community health centers in Texas. The centers receiving the money will serve 78,479 patients across the state and, according to a White House representative, create 6,000 jobs over the next two years.
Must-Read:
Texas Tribune donors or members may be quoted or mentioned in our stories, or may be the subject of them. For a complete list of contributors, click here.
Support public-service journalism that's always free to read.
It's been a busy year. Through it all, The Texas Tribune's journalists have not missed a beat. And with redistricting starting in earnest next week and the 2022 elections on the horizon, we know our journalism will continue to be fundamental for Texans everywhere. Support our work today so we can be there for you in 2022 and for whatever else 2021 might throw at us.
Yes, I'll donate today