The Brief: Top Texas News for April 24, 2012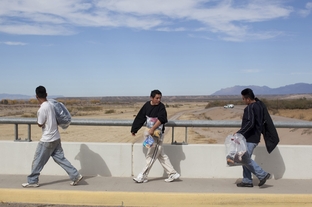 The Big Conversation:
With the U.S. Supreme Court set to hear a major immigration enforcement case this week, new demographic data released Monday may help reshape the debate.
According to a study released Monday by the Pew Hispanic Center, the number of legal and illegal Mexican immigrants who left the U.S. from 2005 to 2010 matched or may have slightly exceeded the number who arrived in the U.S.
The data marks a significant shift from population trends of the past four decades, which have brought 12 million Mexicans to the U.S.
"We've told pieces of this story in the past, but this is the most comprehensive look we've been able to put together," said Paul Taylor, director of the Pew Hispanic Center, according to the Austin American-Statesman. "This is an historic wave which at least over a five-year period seems to have come to a standstill."
The study didn't provide data that officially explained the phenomenon, but authors theorized that the standstill could be attributed to, among other causes, the struggling U.S. economy, the weak American housing and construction market, a rise in deportations and the decline of Mexico's birth rate.
As The New York Times notes, the study provides fresh fodder for both sides of the immigration debate, which will heat up nationally this week as the Supreme Court hears arguments Wednesday over Arizona's SB 1070, a tough — and highly controversial — immigration enforcement bill. Proponents of the law, which gave local and state law enforcement broad authority to enforce immigration laws, call such measures the most effective way to stem illegal immigration. Opponents say the law forces immigrants into hiding and that high U.S. unemployment explains the demographic shift.
As for the impact on the U.S., Pia Orrenius, an economist at the Federal Reserve Bank of Dallas, said that due to economic factors, the nation won't likely feel the effects of the slowdown in the immediate future.
"Right now there's not a great need for these workers. It's actually having a beneficial effect because the labor market's been so weak," she told the San Antonio Express-News. "The problem is going to be in the medium to long term, when there will be a recovery in construction"
Culled:
"This campaign has a few months left to it. It's not going to end like some people pretend." — Ron Paul at a rally in Philadelphia

Must-Read:
Texas Tribune donors or members may be quoted or mentioned in our stories, or may be the subject of them. For a complete list of contributors, click here.