TribWeek: Top Texas News for the Week of 3/12/12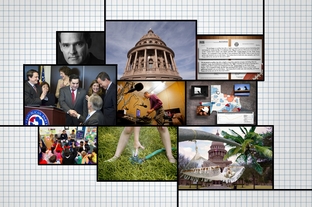 The U.S. Department of Justice has rejected Texas' application for preclearance of its voter ID law, saying the state did not prove that the measure would not have a discriminatory effect on minority voters.
U.S. Health and Human Services Secretary Kathleen Sebelius said the federal government will cut off funding for Texas' Women's Health Program. This Storify timeline looks at how the controversy has unfolded.
Critics are questioning the use of state money they say is being spent to attract sporting events that originated in Texas — and don't appear to be leaving anytime soon.
A Houston lawyer with a long list of high profile clients has been tapped to be the prosecutor in the court of inquiry into possible misconduct in the case of Michael Morton, who was wrongfully convicted of murder in 1987.
The candidates have filed for the May 29 primary elections, and we've updated our election brackets to reflect the final filing period.
Texas State Technical College and the Texas Higher Education Coordinating Board are developing a bold new outcomes-based funding model. But do they have the necessary data to make it work?
State agencies have paid fired or resigning state employees more than $500 million in unused vacation time over the last decade.
Since Texas' lowest dip in the recession, the state has added nearly 500,000 jobs. This interactive explores how the economy has changed by industry and region.
Texas Tribune donors or members may be quoted or mentioned in our stories, or may be the subject of them. For a complete list of contributors, click here.