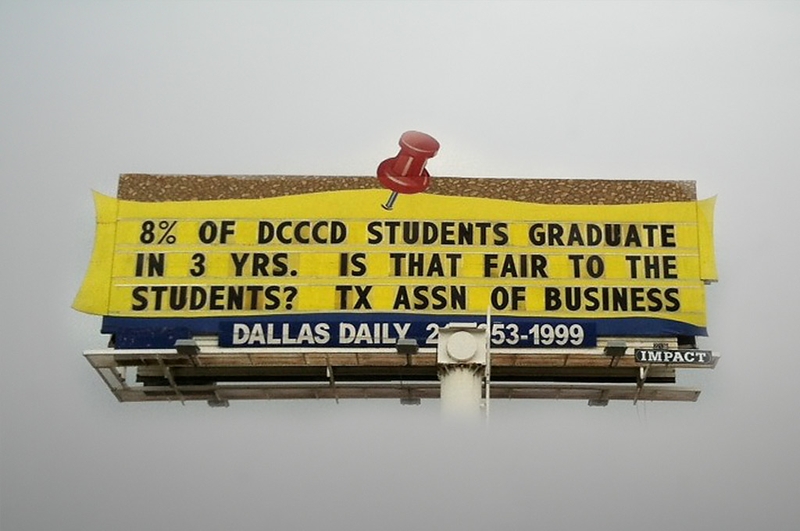 Dallas County Community College District Chancellor Wright Lassiter said a new billboard from the Texas Association of Business knocking DCCCD graduation rates shows "a fundamental lack of understanding" about community colleges.
In a letter to Bill Hammond, the TAB president, Lassiter wrote, "We are disappointed that the Texas Association of Business would attack the workhorse and largest sector of the Texas higher education system through a billboard campaign rather than support the state's investment in community colleges."
The billboard, which is scheduled to be up for 3 days, reads, "8% OF DCCCD STUDENTS GRADUATE IN 3 YRS. IS THAT FAIR TO THE STUDENTS? TX ASSN OF BUSINESS."
In his letter, Lassiter points out that the average age of a DCCCD students is 27 years old. "Here's a shocker: many of our students don't graduate in three years — a fact that is their choice because they do not or cannot attend classes full time," he wrote.
The Texas Tribune thanks its sponsors. Become one.
In response to such arguments about part-time students, the TAB issued a statement this afternoon pointing out that 24 percent of students who started as part-time at a community college in 2004 graduated with a degree or certificate within six years of enrolling. And 62 percent of the part-time students who enrolled that year had no credential and were no longer enrolled.
"No matter how you slice it, about two-thirds of students who want to earn a postsecondary award upon enrolling at a community college never do, no matter how you count them or over what period of time," the TAB statement said.
Lassiter also pointed out "another shocker," specifically that many students never graduate from community college but use the credits amassed there toward a degree from a university.
"I welcome dialogue with you on these important issues," Lassiter concludes, "rather than using gimmicks like one-day billboard messages."
Here's the letter:
Texas Tribune donors or members may be quoted or mentioned in our stories, or may be the subject of them. For a complete list of contributors, click here.