Unregulated Religious Colleges Stir Fears of Diploma Mills
New federal regulations have prompted state officials to revisit a 2007 Texas Supreme Court decision that some call a "key victory for Christian education" and others say could open the door to diploma mills.
HURST — Sitting in his new office — the sparsely decorated basement of an unassuming 9,000-square-foot building just outside Fort Worth — Christopher Cone cut to the chase during a discussion of academic accreditation.
"It isn't necessary, and it doesn't benefit anybody," said Cone, the president of Tyndale Theological Seminary & Biblical Institute.
The former is certainly true in the case of Tyndale, a private, Bible-based institution with only religious course offerings. The seminary won freedom from state regulation over the granting of degrees in HEB Ministries Inc. v. Texas Higher Education Coordinating Board, the little-discussed 2007 Texas Supreme Court decision that Cone called "a key victory for Christian education in Texas."
"It was a monumental thing," said Cone, who has been president of Tyndale since 2006. "The government has no authority to dictate what is quality religious education. The biblical text — that's our authority; that's our standard."
But critics of the decision say it may have opened the door to turning Texas into a breeding ground for unregulated diploma mills, with institutions allowed to grant degrees without approval from the state or a recognized accrediting body.
Cone said such fears were unfounded. "What you saw rise up immediately after the decision was not diploma mills," he said, "but Bible institutes that had been struggling and were suddenly able to put themselves out there."
State officials are now reviewing whether the Texas court determination conflicts with the Obama administration's broad new set of rules aimed at strengthening the integrity of higher education programs nationwide.
The Department of Education introduced rules in 2010 that required states to have "a process to review and appropriately act on" complaints concerning all higher education institutions — both public and private, including religious institutions — before they can be eligible for federal financial aid.
The Texas Higher Education Coordinating Board, which monitors implementation of state policies, currently does not have an official complaint process in place for students who question the value of their institution's credentials.
In June, the board requested an opinion from Attorney General Greg Abbott on whether it had the authority to put one in effect.
In the same request, the board sought a legal opinion on the requirement to include religious institutions, given the Texas Supreme Court's opinion. An opinion from the attorney general is expected before the end of the year.
HEB Ministries (the acronym stands for Hurst-Euless-Bedford and has no relation to the Texas supermarket chain) is the church that oversees Tyndale, which has about 200 students enrolled every semester, most of them online.
Tyndale's run-in with the coordinating board began at the institution's commencement exercises in June 1998, when graduates received a combined 34 awards with designations like master of arts, doctor of philosophy and "bachelor level diploma in biblical studies." Tyndale was then, and is now, by choice, unaccredited and does not have a certificate of authority from the state to operate.
According to Texas statute, only colleges with such a certificate or accreditation could grant degrees or their equivalents, or be referred to as a seminary. The state assessed Tyndale a $173,000 fine for the 34 degrees and for using the protected term.
Rather than paying the fine, Tyndale sued and, despite initial court losses, took the fight to the state's highest court. There, a split decision held that requiring a private religious institution to get authority from the state to grant religious degrees or call itself a seminary was unconstitutional because the state was expressing a preference for accredited religious education, violating the establishment clause separating church and state.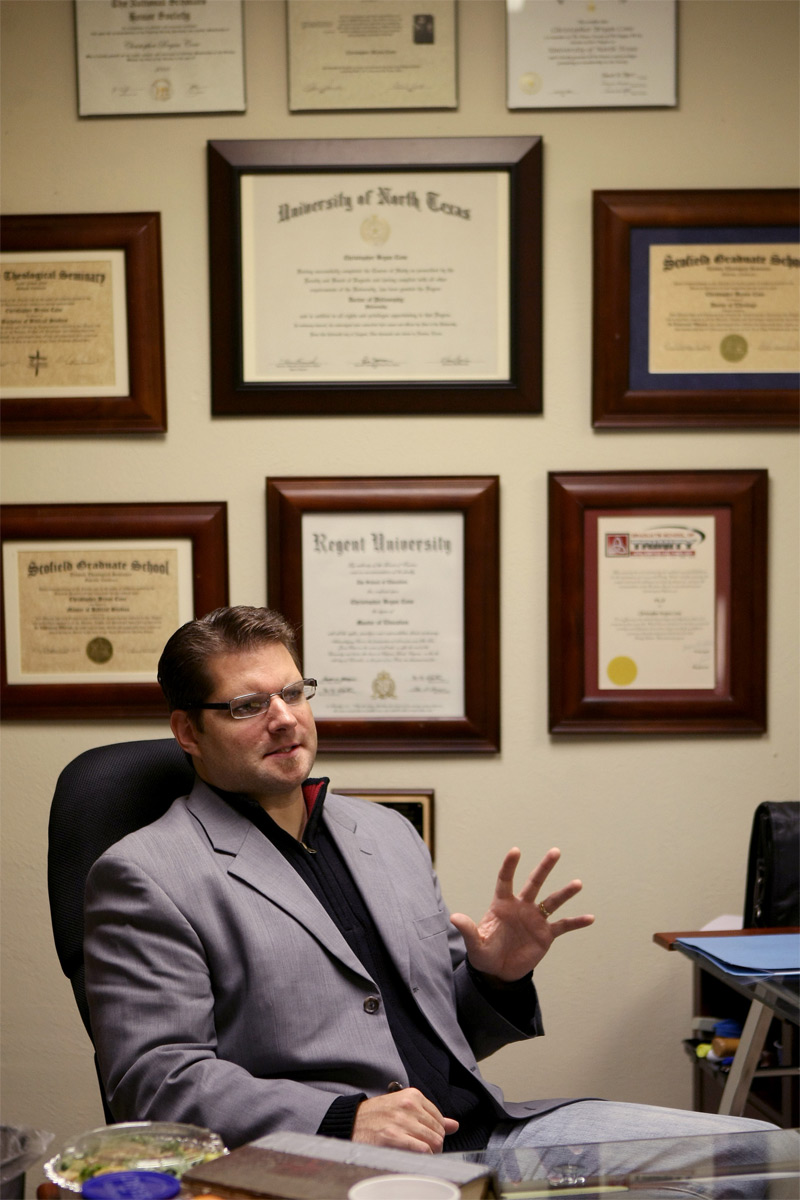 The plurality opinion, written by Justice Nathan L. Hecht, also found that restricting the language religious schools used to refer to themselves or to their degree programs violated the freedom of religious exercise.
Cone said that avoiding accreditation, in addition to allowing Tyndale to maintain doctrinal purity, had been a crucial factor in allowing the school to remain affordable.
Because the school is unaccredited and does not have state approval, its students are not eligible for state or financial aid, he said, and Tyndale officials are not tempted to raise tuition prices to increase revenue.
Courses, which are typically three credit-hours each, cost $180 to $300. Employees' salaries can also be substantially lower than at accredited institutions. The whole operation runs on a budget of roughly $250,000 a year.
Tyndale is also able to continue some practices that are frowned upon in traditional academia, like the hiring of many of its graduates for faculty positions.
Russell Ramirez, a lawyer for the Texas Faculty Association, an organization that represents university professors, said that selling degrees was a secular, commercial act — akin to selling a mattress — and should therefore be subject to regulation.
Ramirez said he worried that institutions that churned out dubious degrees could be "heartened" by the decision and become "an unregulated industry here in Texas."
"It seems to me the court doesn't want to do anything to infringe on people's religious freedoms," he said. "But the court just went too far here."
While Tyndale has deliberately shunned federal and state aid, some higher education observers suggest that other religious institutions may be less eager to do so. In a partial dissent in the 2007 case, Chief Justice Wallace Jefferson wrote that the implication of the court's decision might be that the state could not "accredit any religious colleges or universities that offer degrees in any religious discipline."
Jefferson posited that if, as Justice Dale Wainwright asserted in a partial concurrence joined by Justice Phil Johnson, the statute regulating the terms used to signify degrees, such as "bachelor's" or "master's," violated the First Amendment, any institution — religious or otherwise — would be able to award "the equivalent" of degrees.
"Imagine a 'doctor of engineering,' who received his degree from an unaccredited school, hired by the state to inspect and repair bridges," he wrote.
Cone said it should be up to employers to determine the validity of potential employees' degrees.
But it has not been an entirely easy process for many schools. In 2010, a federal district court in Austin held that the Institute for Creation Research, an institution similar to Tyndale, did not have the right to offer a master's degree in science education. The institute did not appeal the decision, though Cone said he wished it had.
As for its reputation, Cone estimated that 70 percent of Tyndale's students found the seminary through word of mouth — a strong endorsement.
For now, the coordinating board awaits the attorney general's opinion on the Department of Education rules, which is expected by Dec. 26. Tyndale is under no illusions that this debate will be the last.
"You have to expect that there will be more intrusions," Cone said.
Texas Tribune donors or members may be quoted or mentioned in our stories, or may be the subject of them. For a complete list of contributors, click here.
Texans need truth. Help us report it.
Independent Texas reporting needs your support. The Texas Tribune delivers fact-based journalism for Texans, by Texans — and our community of members, the readers who donate, make our work possible. Help us bring you and millions of others in-depth news and information. Will you support our nonprofit newsroom with a donation of any amount?
Yes, I'll donate today
---
Information about the authors
Explore related story topics