Perry Strategist Slaps Romney in Politico E-book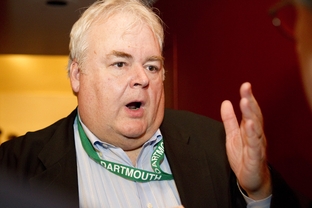 Rick Perry's chief strategist, Dave Carney, clearly doesn't think much of once (and future?) GOP presidential front-runner Mitt Romney.
In The Right Fights Back, a just-published inside-the-2012-campaign e-book written by Politico's Mike Allen and former Newsweek writer Evan Thomas, Carney lays into the former Massachusetts governor's personality and core values — or lack thereof.
Perry and Romney were expected to be the chief rivals for the Republican nomination when the former entered the race on Aug. 13, but the Texas governor's fortunes have faded following poor debate performances and a string of campaign trail gaffes. Romney is now battling former U.S. House Speaker Newt Gingrich for the lead in most early caucus and primary states, according to recent polls, while Perry is in the back of the pack, stuck in single digits.
Carney talked to Allen in mid-October at a diner in Peterborough, New Hampshire, according to the book, which went on sale via several online retailers starting this morning.
"Everybody knows the book on Romney is that it has to be his way or no way," Carney told Allen. "He's very stubborn. He's very thin-skinned … storms out of meetings when it doesn't go his way. And people who are involved in debate prep in the last cycle basically told us that he would react badly to someone challenging his narrative. He just is incapable of acknowledging that there may be a different interpretation of something."
Carney went on to describe Romney as"unbelievably temperamental … in that [if] he thinks that it's three o'clock in the afternoon, it's three o'clock no matter what time it is. … He's totally easy to get off stride, discombobulated."
Elsewhere in the book, Allen and Thomas portray Perry as a lackadaisical candidate plagued by back pain and sleeplessness. They quote a "former top Perry fundraiser" who left the campaign in October as saying, "I think the governor was talked into running. ... I think he was also promised he wouldn't have to work all that hard to get it."
The fundraiser's biggest regret, the authors report, was "as she put it, 'just spending lots of time with him and traveling with him and not seeing a real burning desire that I've seen with every other candidate I ever worked with.'"
Texas Tribune donors or members may be quoted or mentioned in our stories, or may be the subject of them. For a complete list of contributors, click here.