A Texas Issue, but Not a National One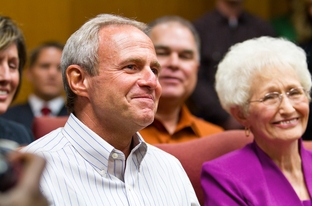 The Texas Court of Criminal Appeals took some heat off of Gov. Rick Perry when it issued a stay of execution for Hank Skinner this week. And the governor has avoided any link to another case involving two of his appointees and a botched murder prosecution in Williamson County.
Lawmakers, former inmates and others interested in the Texas justice system had called on Perry to intervene and urge the courts to allow DNA testing that Skinner claims could prove his innocence. His execution was scheduled for Wednesday, but the state's top criminal court postponed it.
Skinner was convicted of the brutal 1993 New Year's Eve triple murder of his live-in girlfriend and her two sons.
The court stopped the execution to get more time to review Skinner's DNA testing request based on changes to Texas law that were approved during the legislative session this year. Skinner has been seeking DNA tests for a decade on a number of items, including a rape kit, a man's jacket and knives found at the crime scene.
The appeals court has twice before denied Skinner's request, arguing not only that he didn't meet the requirements under state law to obtain testing but also that the tests couldn't prove his innocence.
Lawmakers repealed the restrictions the court cited in denying Skinner's requests, but one big challenge remains for Skinner. He was at the murder scene. DNA tests confirm his blood was there, and he doesn't deny that he was in the room when the murders happened. He argues, though, that he was on the couch, nearly comatose from a cocktail of vodka and codeine while the attacks happened.
Even if the DNA tests reveal that someone else's DNA was at the crime scene, that doesn't eliminate the fact that Skinner was there. And the Texas Court of Criminal Appeals has said in its previous rulings no exculpatory test results could prove Skinner's innocence.
But for Perry the stay and the court's continued deliberations over DNA testing makes this one issue he doesn't have to deal with while he is on the campaign trail.
In another DNA-related controversy, Perry so far seems to be unaffected by the ongoing investigation of prosecutors in Williamson County who allegedly suppressed evidence that could have prevented the wrongful conviction of Michael Morton or ended his imprisonment sooner.
Perry appointed Ken Anderson, the former Williamson County district attorney who prosecuted Morton, to the 277th District Court there in 2002. He also appointed John Bradley to replace Anderson as district attorney.
Anderson has denied allegations of wrongdoing in court documents, but others deposed in the investigation by Morton's lawyers point to him as the primary person responsible for Morton's trial in 1987 and for controlling the release of evidence to defense lawyers and to the judge. Bradley, who became district attorney in 2001, has come under criticism for resisting DNA testing in Morton's case for six years and for fighting the release of information in the prosecution's file to defense lawyers.
Bradley was Perry's appointee to head the Texas Forensic Science Commission, and argued successfully that the commission didn't have the jurisdiction to reopen that case.