DMV Board Rejects Confederate License Plate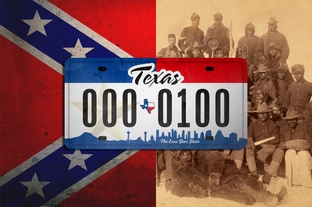 Enlarge
Illustration by Todd Wiseman
The Texas Department of Motor Vehicles on Thursday unanimously rejected a controversial license plate commemorating the Sons of Confederate Veterans of Texas, but its decision is unlikely to be the end of the heated debate over the symbol many associate with slavery. Leaders of the veterans group said they plan to sue to have the speciality plate issued.

In a packed hearing room where opponents of the plate overwhelmingly outnumbered supporters, the DMV board heard emotional testimony from Texas lawmakers, pastors and veterans groups. U.S. Rep. Al Green, D-Houston, finished his testimony against the plate by leading the crowd in an impromptu recital of the Pledge of Allegiance.
The board today also approved a specialty license plate commemorating Buffalo Soldiers, cavalry units that were composed of African-American soldiers after the Civil War.
Texas Land Commissioner Jerry Patterson, who sponsored both plates, weaved his testimony with a lesson in Texas history and sprinkled in quotes from Abraham Lincoln and Robert E. Lee to argue that the plates were about specifically honoring the soldiers.

"History is not as simple as we try to make it: If it is Southern, then it is bad," Patterson said.
Nine states have specialty license plates with the logo of the Sons of Confederate Veterans, according to the group. It had to sue three of those states — Maryland, North Carolina and Virginia — to get the license plate issued.
Granvel Block, Texas division commander of the Sons of Confederate Veterans, said after the vote that he had already begun to explore legal options.
Gary Bledsoe, president of the Texas chapter of the NAACP, said the Confederate license plate would have caused a "breach of peace." He cited historical research to show that the battle flag proposed for the plate was not one of the three Confederate flags to fly over Texas.
Ray James, a member of the Sons of Confederate Veterans, said in his testimony that the battle flag was used in the design of the plate because it was intended to honor the soldiers.

"This license plate is an important part of our process to remind Texans of their heritage and will provide much-needed revenues to help us accomplish our mission of honoring our Confederate ancestors and seeing that the true history of the South is told to future generations," James said in a statement prior to the hearing.
The unanimous vote reversed an April vote taken by the board, whose members are appointed by Gov. Rick Perry. In that vote, the board split 4-4 with one member not voting. The issue of the license plate received national media attention when Perry spoke out against the plate's approval in an interview last month in Florida, stating "we don't need to be scraping old wounds."
Texas Tribune donors or members may be quoted or mentioned in our stories, or may be the subject of them. For a complete list of contributors, click here.