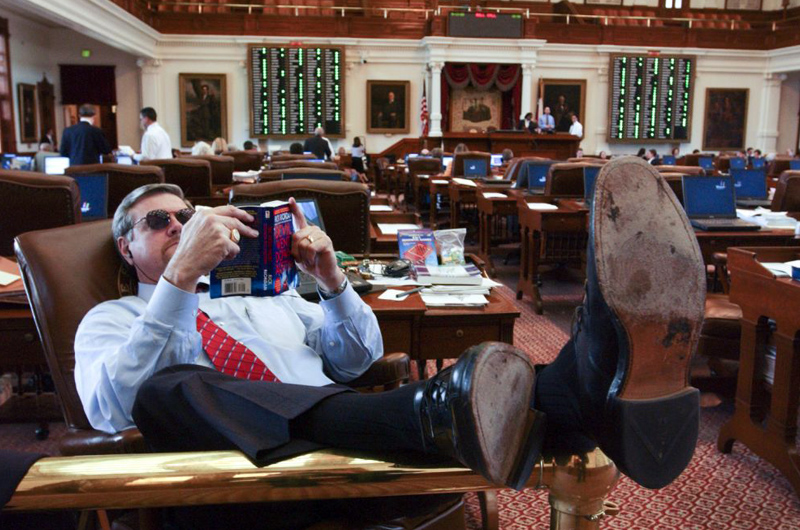 Updated, 11 p.m.:
State Rep. Joe Driver, who candidly acknowledged pocketing taxpayer reimbursements for travel paid by his campaign, will enter a guilty plea on abuse-of-office charges, a third-degree felony, a top prosecutor said Tuesday night.
"He is going to plea to the third degree felony," said Assistant Travis County District Attorney Gregg Cox, head of the Travis County Public Integrity Unit. "It is a plea of guilt."
Driver did not return a phone message requesting comment.
The Texas Tribune thanks its sponsors. Become one.
Fox 4 News in Dallas first reported the filing of the charges on Tuesday.
Driver recently announced he was leaving the Legislature at the end of his current term. Last year, Driver acknowledged that for years he had been submitting identical receipts, for airfare, fancy hotels and other expenses, to his campaign and to the Texas House of Representatives.
The Garland Republican admitted to the double-billing in an interview but said he thought it was appropriate — until a reporter asked him about it.
"Well, it doesn't sound like it is now, if you bring it up that way," Driver said
"It pretty well screws my week," Driver added.
First elected in 1992, Driver said he did not know how long he had been pocketing the state travel money and was not trying to profit from the transactions. The lawmaker said he had simply made unintentional errors in the way he reported the billings.
The Texas Tribune thanks its sponsors. Become one.
Driver reimbursed his campaign about $50,000 after the details of his billing practices were revealed publicly.
Cox said Driver had made arrangement to enter a plea on a charge of "abuse of official capacity," a third-degree felony. The value affixed to the misuse of office was estimated at between $20,000 and $100,000. A third degree felony is punishable by a fine of up to $10,000 and imprisonment of between two and 10 years.
Cox said Driver would be eligible to serve probation on anywhere between two to ten years. Cox said he was happy with the way the issue had been resolved.
"You've got an elected official pleading guilty to a third degree felony," Cox said. "I think that's going to be a pretty good outcome."
The North Texas lawmaker had been under investigation during the 2011 session, but that didn't stop him from carrying a high-profile bill. Driver helped lead the often-heated and ultimately unsuccessful effort to allow concealed handguns on college campuses.
Texas Tribune donors or members may be quoted or mentioned in our stories, or may be the subject of them. For a complete list of contributors, click here.