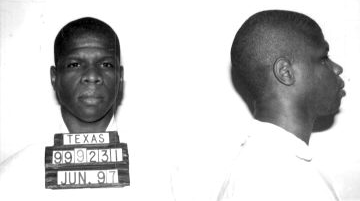 The U.S. Supreme Court today denied the appeal of Texas death row inmate Duane Buck, who was seeking a retrial based on race-related testimony given during the sentencing phase of his 1997 trial.
The high court stayed Buck's execution in September to consider his appeal. His lawyers argued that because psychologist Dr. Walter Quijano told jurors that the fact Buck is black meant he was more likely to be violent in the future, he ought to be granted a new trial without race-related testimony.
The same psychologist gave similar testimony in six other death row cases. And in 2000, then-Attorney General John Cornyn admitted the state erred in allowing the race-related testimony in Buck's case and the others. In each case, except Buck's, the defendants were given new trials to determine their sentences. They all were re-sentenced to the death penalty.
Buck's lawyer Kate Black, an attorney with the Texas Defender Services, said the court's decision was disappointing.
The Texas Tribune thanks its sponsors. Become one.
"It is now up to the State of Texas to ensure that Mr. Buck receives a sentencing hearing that is not impacted by the color of his skin," she said.
Writing for the majority, Justice Samuel Alito described Quijano's testimony as "bizarre and objectionable," but he said the difference in Buck's case was that the psychologist's discussion of race was elicited by his defense lawyers. Quijano said that although Buck would not be a future danger to society, people of his race (Buck is black) are statistically more likely to engage in crime.
"Dr. Quijano's testimony would provide a basis for reversal of petitioner's sentence if the prosecution were responsible for presenting that testimony to the jury," Alito wrote. He added, "Thus, this is the only case in which it can be said that the responsibility for eliciting the offensive testimony lay squarely with the defense."
In a dissenting opinion, Justice Sonia Sotomayor wrote that although Buck's lawyers brought up the race testimony, the prosecution revisited that testimony on cross-examination "in a question specifically designed to persuade the jury that Buck's race made him more dangerous." Sotomayor wrote that Buck's case deserved additional consideration in light of the nature of the punishment and the state's admission of error.
Texas Tribune donors or members may be quoted or mentioned in our stories, or may be the subject of them. For a complete list of contributors, click here.