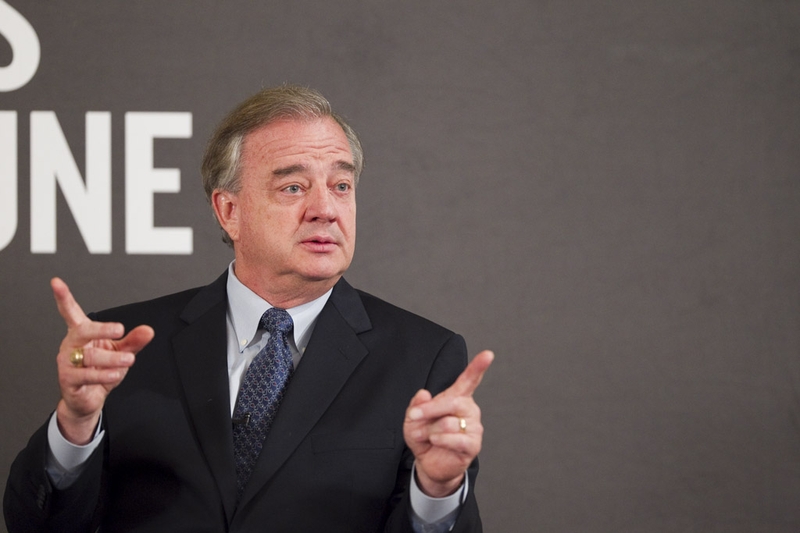 Eight weeks after he was put in charge of the Texas A&M University System, Chancellor John Sharp is shuffling the top staff, hiring management consultants to streamline the administration and cutting his own pay.
So far, none of the changes are as dramatic or headline-grabbing as his sudden firing of Deputy Chancellor Jay Kimbrough in September. In fact, they are all telegraphed in a report by his transition team (attached below).
That team included System General Counsel Ray Bonilla, Sharp's former comptroller's chief of staff Tom Duffy, former Deputy Comptroller Billy Hamilton, and E.J. Pederson, a former executive vice president of the University of Texas Medical Branch at Galveston and a close friend of the chancellor.
"Our overall conclusion is that while some organizational changes are needed, the Texas A&M University System has enormous potential to achieve sustained greatness as one of the premier public university systems in the nation — and in the world," they wrote in the introduction to their report. They said their findings are not definitive but are designed to quickly address needed organizational changes.
The Texas Tribune thanks its sponsors. Become one.
Sharp told The Texas Tribune he concurs with nearly all of the recommendations. One called for placing all communications and public relations staff throughout the system on annual contracts so that the system's overall messaging could be reviewed frequently. Instead, Sharp and the A&M System regents decided that such personnel will simply serve at the will of the chancellor and their respective president.
Many of the recommendations have already been met or are about to be. The report calls for an outside management review of the administration, and this week it was announced that MGT of America — which Sharp has called upon in the past — has been secured for the project. Frank Ashley, the current vice chancellor of academic affairs, has been moved into the newly recommended role of vice chancellor of diversity. A new vice chancellor for government affairs who will coordinate their federal and state relations had also been selected. Greg Anderson, previously the system's chief investment officer, is now the system's new chief financial officer.
While it was not recommended by the team, Sharp has also cut his own salary by 5 percent. He said he was inspired by Prairie View A&M University President George C. Wright, who responded to current financial difficulties to returning to the classroom. Sharp said he's not a good teacher, but hoped this sacrifice — which takes his salary down to $507,000 — might strike a similar symbolic chord. He described it as "good for the goose, good for the gander."
Ultimately, Sharp said he hoped the changes he has made — and those that are on the way — have sent a message to the A&M, legislative and Texas communities. "We just want to get everybody on the same page," he said. "We want the Legislature to know we're being inclusive all over the state of Texas. We will have our organization in place to where it's doing the most efficient job possible."
Here's the full transition team report, including what members say should be done about the system's airplanes:
Texas Tribune donors or members may be quoted or mentioned in our stories, or may be the subject of them. For a complete list of contributors, click here.