Randy Neugebauer: The TT Interview
The GOP congressman from Lubbock on Gov. Rick Perry, cuts in direct payments that could be headed for Texas farmers, his hopes for the supercommittee and what the 2012 elections will say about Americans' view of the economy.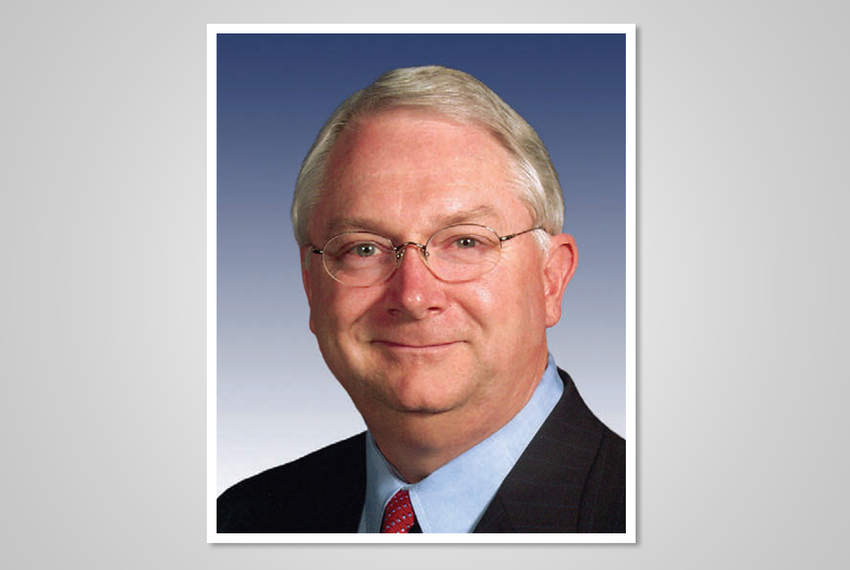 WASHINGTON — The 2012 elections will test whether Americans are serious about spending and deficit reduction, a problem that's "either going to be resolved by Congress or it'll be resolved by our creditors," U.S. Rep. Randy Neugebauer, R-Lubbock, told The Texas Tribune during an interview in his Capitol office last week.
The conservative Neugebauer was one of five Texas Republicans this summer to vote against a deal to raise the national debt ceiling and create a so-called supercommittee, the panel of 12 lawmakers tasked with finding more than $1 trillion in decade-long deficit reductions by Nov. 23.
Now that the supercommittee's work is under way, the fifth-term congressman said he hopes Congress can achieve cuts that go beyond discretionary spending.
Neugebauer endorsed Sen. Kay Bailey Hutchison when she challenged Texas Gov. Rick Perry in the Republican gubernatorial primary in 2010. But he threw his support to Perry before the governor jumped into the presidential race earlier this year and reiterated his endorsement to the Tribune.
On Thursday, after a new New York Times/CBS News poll showed just 9 percent of Americans approve of Congress's job performance, Neugebauer sat down with the Tribune to talk agriculture policy, including cuts to direct payments that could be headed Texas farmers' way; his hopes for the supercommittee, whose November deadline is looming; and why he and Perry are on the same page headed into 2012. Click the audio button above to hear a portion of the interview. The following is an edited and condensed transcript.
TT: What do you see as Congress's ability to address the unemployment and uncertainty in the economy?
Neugebauer: Not much, because it's really an economic issue, and so when you get Congress involved in it you're trying to say it's somewhat of a political issue. I think there are some things that have made this problem a lot worse than it is, and I think there are some things that Congress can do to kind of free up the market system to do that. I call it getting the government out of the way. About four years ago, I said we ought to hit the pause button up here and quit trying to fix all these things and really let the marketplace run its course. The thing about markets, and I think the thing people don't understand about that, is markets are not kind, but they're very efficient. So when the marketplace determines an inefficiency in the system it corrects that, and a market system that's left alone will reward good behavior and punish bad behavior. When government steps in, we almost try to reverse that. We almost try to punish good behavior and reward bad behavior. I think when you look at some of the policies of this administration, you know, that plays itself out.
TT: What are you hearing from your constituents about what they want Congress to do? Do they support the measures the House Republicans are pushing?
Neugebauer: Yes. First thing they say is, "Quit spending so much money." By and large, that's — people understand that you can't continue to spend a dollar and borrow 40 cents. They get the spending piece, and I come from a very conservative district. People in my district really would love for government to be less of an influence. One of the things I hear a lot is just, "If the government would just get out of my way a little bit I could move forward." But when they have Obamacare looming over them, you've got a very aggressive [Environmental Protection Agency], you've got uncertainty in the tax situation and then this Dodd-Frank and, you know, impact on capital. I mean, the list goes on and on, and time and time again I hear a lot of my constituents just say, "You know, I'm just sitting on the sidelines right now, Randy. … I could probably hire some more people. I would like to expand my business. I've probably got some additional business out there, but I just don't know what the rules are going to be, you know, moving down the road."
TT: Gov. Rick Perry, when he kicked off his presidential campaign, said he wanted to make Washington as "inconsequential" in people's lives as he could. Does that sort of states' rights rhetoric make your job here in Washington more difficult, or are you on the same page in a lot of ways?
Neugebauer: I think we're on the same page. Education is a great example, because the only way you can make federal policy for education is you assume that every student, every classroom, every school, every school district has the same issues, and we all know that that's not the case. So making education policy on a nationwide basis is — I think the jury is out.
TT: Do you think that goes all the way to questioning the necessity of the Department of Education?
Neugebauer: I know it sounds radical but, really, where are the best decisions for students made? The best decisions for students are made in the classroom and at the local school district. The school district knows and the principal knows and the teacher knows the dynamics of the kids who are in this particular classroom. The people down the street here don't know that and don't understand it. That doesn't mean I don't believe there should be accountability, but isn't the accountability really to the people, the residents of that state, rather than to a big bureaucracy here in Washington, D.C.?
TT: You serve on the Agriculture Committee. What did you think about recently proposed agriculture cuts?
Neugebauer: I think what will have to be determined is, you know, then what? How do you divvy up that $23 billion? And I think that there's some discussions going on with Chairman [Frank] Lucas [R-Okla.] and the chairman of the ag committee in the Senate. But I think one of the things that everybody recognizes, and producers in Texas understand this, is that everybody's got to tighten their belt. What they say is, "Randy, you know, let's do that fairly and let's make sure that we leave in place farm programs that continue to make agriculture kind of one of the bright spots in the economy." And one of the things in the last few years, agricultural exports, has been one of the bright spots in the economy, so we'll see how those are broken out.
We've been very involved in crop insurance, and we introduced in the last farm bill a crop insurance bill that really begins to give producers a better risk management tool. It gives them more flexibility and helps them manage their individual risks. We've reintroduced that piece of legislation, and we've offered that up as a solution as people are beginning to ascertain what part of the current farm program that might be reduced or, in some cases, possibly done away with, and if there are some things that you can trade out or replace it with that actually make it better but more cost effective.
TT: Back to spending cuts the supercommittee is working on: How difficult do you think it will be to deal with the supercommittee's recommendations right at the end of 2011 just as your committee starts work on a new farm bill in 2012?
Neugebauer: You would have a little bit of a period of time before these cuts go into effect. So one of the things Chairman Lucas has said, and I agree with, is, "Hey, you all give us a number and then let's use regular order." Let's go through the committee process, and let's put together a farm bill that's within the restrictions given us by the supercommittee. ... But, honestly, it still remains to be seen whether the supercommittee will actually be able to accomplish anything.
TT: How much information are you able to get about what's going on in there and whether they're making progress?
Neugebauer: U.S. Rep. Jeb Hensarling [R-Dallas, a supercommittee co-chairman] is a good friend of mine, but they made an agreement among the 12 that they wouldn't talk out of school. It appears they've done a pretty good job of that, which is pretty remarkable up here. Because most of the time I'll hear something in conference and before I can get out of conference it's already up on the Internet somewhere.
So I think they've done a pretty good job of keeping that and I have reservations about that. I think we promised the American people we'd have a more open government here and I'm not sure the best decisions get made behind closed doors. I think when there's some light on the issues that it's a better process and so, I didn't vote with the deal, and that was one of the reasons, is that I just wasn't comfortable with this process.
TT: What do you hope that the supercommittee will accomplish?
Neugebauer: What they need to accomplish is we've got to do something about spending in this country and it can't be all around discretionary spending. We ran a $1.3 trillion deficit last year. Discretionary spending was $1.1 trillion, so if you eliminated all discretionary spending you would still have a $200 billion deficit. So what we do know is the fastest growth in government is really not in discretionary spending because, really. When you look at even the Bush years and discretionary spending was relatively flat, and of course when we got into the stimulus business and some of these other things, discretionary spending spiked up, but when you look at the real growth in government, it's the Medicare. It's the Medicaid. It's the Social Security, and those are really the areas that we are going to have to go in and figure out how to change the flight plan of those issues.
TT: How will we see whether there's the political will, as you say, to fix the spending problem?
Neugebauer: I think it plays out in the election next year. I think they'll have had a dose of supercommittee. I think we'll still be running these kinds of deficits next year. I think that's the projection: still over a $1 trillion deficit. We'll see how the economy's performing. We'll see what the jobs numbers are.
The election in November of '12 is really about if the American people are serious about this, and here's the problem. This problem will have to be resolved one way or the other. It's either going to be resolved by Congress or it'll be resolved by our creditors, just like it's playing out in Europe and other places.
Texas Tribune donors or members may be quoted or mentioned in our stories, or may be the subject of them. For a complete list of contributors, click here.
Texans need truth. Help us report it.
Independent Texas reporting needs your support. The Texas Tribune delivers fact-based journalism for Texans, by Texans — and our community of members, the readers who donate, make our work possible. Help us bring you and millions of others in-depth news and information. Will you support our nonprofit newsroom with a donation of any amount?
Yes, I'll donate today
---
Information about the authors
Explore related story topics