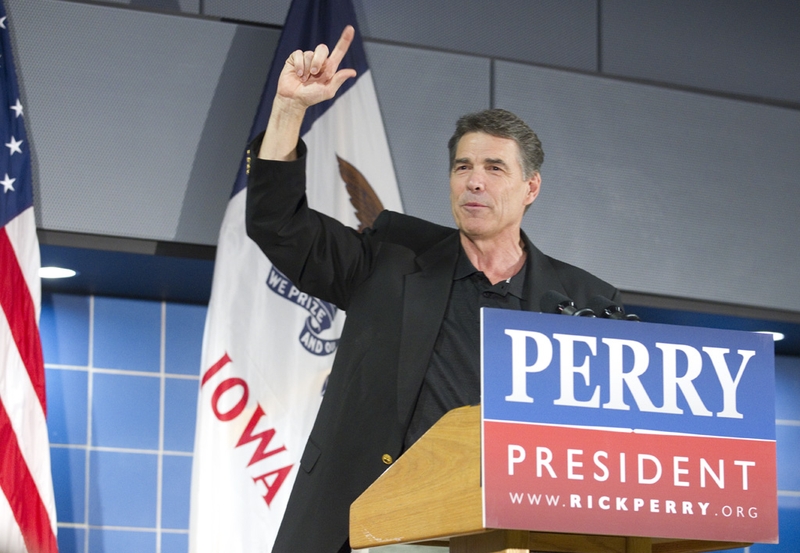 Gov. Rick Perry has delayed, for the second time, federally required disclosures about his wealth and income.
The Federal Election Commission granted Perry a second 45-day extension for his personal financial statement, according to an email received Wednesday by the Texas Tribune. That means the form won't be due until mid-December, the correspondence between the campaign and the FEC indicates.
The FEC's letter granting the extension was dated Tuesday — the same day a Perry spokesman called on former Massachusetts Gov. Mitt Romney to release his income tax returns to provide greater transparency. Perry has released his tax returns going back to the late 1980s.
Perry's campaign sought the delay from the FEC to give the governor more time to decide what to do with his assets. He broke up a state blind trust that had been created in 1996 in anticipation of the federal filing. But Perry is now mulling whether to create a new federal blind trust, according to a letter from campaign lawyer William Canfield.
The Texas Tribune thanks its sponsors. Become one.
The governor is also mulling over the tax consequences of his pension benefits, and needs more time to consult with tax advisers before making a decision, Canfield wrote in a letter dated Tuesday.
FEC associate general counsel Lawrence Calvert, writing back the same day, granted the request but said he would be "unable to grant any further requests for extensions of time."
Perry voluntarily released his 2010 tax return last Friday, showing he and his wife Anita made a little over $200,000 last year.
Disclosures released in September paint a portrait of modest wealth. While Perry once scooped up valuable tracts of land in Central Texas and he scored big when he sold them, the filings suggested the governor gave up much of the profits on Wall Street, and they show he no longer directly owns any land or even a house.
Texas Tribune data reporter Ryan Murphy contributed to this story.
Texas Tribune donors or members may be quoted or mentioned in our stories, or may be the subject of them. For a complete list of contributors, click here.