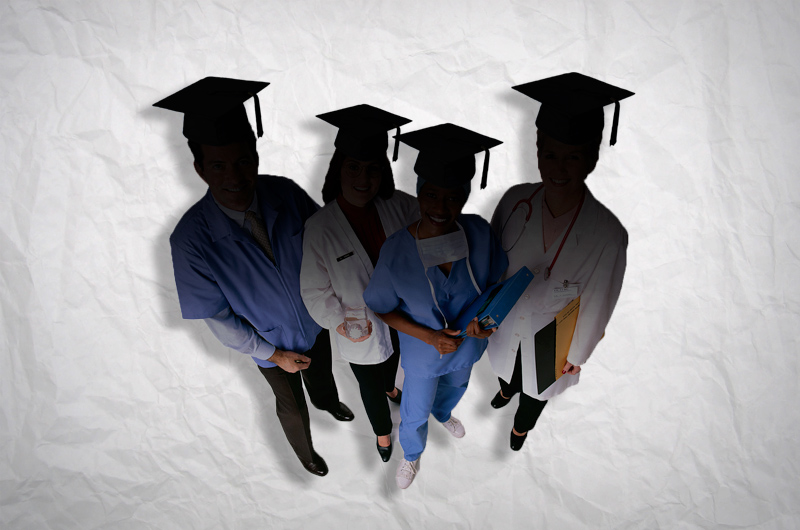 The accreditation of one of the state's medical schools is in jeopardy, according to a memo from Francisco González-Scarano, dean of the University of Texas School of Medicine in San Antonio, sent to faculty and staff today.
According to the memo, the school was officially notified on Friday that the Liaison Committee on Medical Education, the accrediting organization for medical schools, has put its undergraduate medical education program on probation. It remains accredited, but to regain full accreditation, the school must submit and execute a remedial plan to address certain issues.
González-Scarano was clear in his communication that this only affects the undergraduate portion of the school's activities. Its clinical, research and graduate activities are not at issue. He also pointed out that the determination "was not based on any deficiencies in the quality of our medical students or their learning achievements."
He indicated that the accreditors had three particular concerns: an overreliance on passive lecture courses, a lack of central management of the curriculum, and a perceived lack of alignment between the basic sciences and the clinical sciences. According to the dean, "some of these problems have already been partially or even fully addressed."
The Texas Tribune thanks its sponsors. Become one.
Here is his full letter:
Dear Colleagues:

I am writing to share concerning news. In January we hosted a routine 8-year cycle visit by a team from the Liaison Committee on Medical Education (LCME), the accrediting organization for medical schools. Immediately after the site visit, and through subsequent phone calls, letters, and an appeal visit to the American Medical Association headquarters in Chicago, we learned that the LCME had found significant concerns with our undergraduate medical educational program. On Friday October 14th we received an official notification that the School of Medicine will be accredited but on probation. The official letter from the LCME will be available for review, and announcement of our probationary status will be made public on the LCME website later today. The probationary status requires submission and execution of a remedial plan to achieve full accreditation.

Our clinical and research activities, and our graduate medical education programs are not part of this review and are completely unaffected.

The determination of accreditation on probation was not based on any deficiencies in the quality of our medical students or their learning achievements. Educational outcomes of the School of Medicine remain consistent as measured by graduates' matches to the residency programs of their choice and performance in national examinations.

The LCME found ten deficiencies in our program, which can be distilled into three principal and recurrent problems:

(1) First and second year medical school curriculum to date has emphasized passive learning (i.e. lectures) rather than the more modern active learning that promotes self-learning and problem solving. An LCME request for a decrease in the number of lecture hours after the 2003 visit was responded to and eventually led to approval of the curriculum in 2008. However, our curriculum renewal was not sufficiently developed at the time of the 2011 site visit, and it is still ongoing, so further reductions in passive learning activities did not proceed at a level expected by the LCME.

(2) Centralized management of the curriculum (such as ongoing clerkship evaluations and curriculum inventory) has not been undertaken.

(3) Perceived lack of alignment between the basic sciences, which are integral to the first years of the medical school curriculum, and the clinical sciences, during the LCME site visits.

As you all know, some of these problems have already been partially or even fully addressed. Specifically, as of September 1st, the basic science faculty and chairs report to the SOM Dean; integration of operations is ongoing and should be complete within a few months. Plans are also under way for the establishment of an enhanced Office of Medical Education, with additional personnel and dedicated space on the 5th floor of the Briscoe Library. Finally, and perhaps most importantly, the curriculum committee is proceeding with plans for a new curriculum to begin with the next incoming class, in the summer 2012. This new curriculum will have clearly defined learning objectives, as required by the LCME. To oversee these initiatives, I have appointed a special task force led by Dr. Flossy Eddins-Folensbee and composed of members of the faculty and dean's office. While I cannot predict how long our probationary status will last, we are under way towards full compliance with LCME standards.

I believe that a concentrated analysis of our undergraduate educational program and increasing recognition of the importance of maintenance of LCME standards will ultimately make us a better and stronger institution, and will be an immense benefit to our current and future students. It will be my privilege and challenge to guide us through this time.

With my best regards,

Francisco González-Scarano,MD
Dean and VP for Medical Affairs
Texas Tribune donors or members may be quoted or mentioned in our stories, or may be the subject of them. For a complete list of contributors, click here.