Bitter Battle Over Same-Sex Health Care Benefits Divides El Paso
El Paso Mayor John Cook and two City Council members face a recall election over the city's controversial decision to extend health care benefits to unmarried domestic partners of city workers — gay and straight.
EL PASO — Pastor Tom Brown wants homosexuals to repent and turn to Christ. He certainly does not want them to be given taxpayer-financed health benefits.
Brown, the charismatic leader of Word of Life Church, an independent evangelical congregation of about 1,500 members, is on a mission to ensure that the domestic partners of city workers no longer get health insurance. He is spearheading an effort to oust the mayor and two City Council members who supported an ordinance allowing the city to pay for the health benefits of unmarried employees' domestic partners — gay and straight.
"They want to reward fornicators, and they want to reward homosexuals," Brown said in an interview, his voice booming with indignation as he occasionally pumped his fist for emphasis.
The bitter battle over the ordinance and the resulting campaign to get rid of Mayor John Cook, along with the council members, Susie Byrd and Steve Ortega, is dividing a city that prides itself as a liberal Democratic stronghold. For some, it is a symbolic struggle over El Paso's identity. For others in this deeply religious, and largely Latino community, the fight is one that city leaders brought upon themselves and have badly bungled.
"These are the things that define a city, and they're worth fighting for," Byrd said.
The battle over health benefits for same-sex couples began in 2009, when the council approved a budget item that expanded coverage to unmarried domestic partners of city employees. Byrd said the move stemmed from a conversation she and other council members had with a gay high school student who said he did not feel welcome in El Paso.
The action drew immediate fire from religious leaders. Brown and a small group of angry protesters showed up at a council meeting less than a week later, quoting Bible verses and threatening to initiate a voter referendum.
"The only thing I could think of at the time was, If you do this, you're going to lose the good will of the city," Brown said. His words, he said, were prophetic.
Within a few months, Brown and his supporters launched a petition campaign urging the council to adopt an ordinance preventing the city from giving health benefits to domestic partners. The council rebuffed the petition.
"They were trying to get us to legalize discrimination against gay people," Byrd said.
Undeterred, Brown and his supporters gathered enough signatures to force a voter referendum on whether the city should be barred from giving health benefits to unmarried couples.
As the November 2010 election drew near, local religious leaders offered free weddings to unmarried heterosexual couples working for the city. They offered to help gay city employees find counseling that the religious activists said would rid them of their homosexuality. Barney Field, the executive director of El Paso for Jesus, warned in the El Paso Times that the ordinance was making the city vulnerable to spillover violence from the raging drug war in neighboring Juarez. "El Paso is in a precarious position right now," Field said.
The referendum banning domestic partner benefits passed, with 55 percent of the vote. Of the 150 city employees who were subsequently notified they would lose dependent benefits, 19 were in domestic partnerships, including two who are gay. The cost to the city of providing benefits to the partners of those 19 was about $34,000 a year, Cook said. Among those also losing their benefits, he said, were foster children, retirees and disabled relatives being cared for by city employees.
Cook, who was elected in 2005, often quotes scripture, and his standard response when asked how he is doing is a tranquil, "I'm blessed. How are you?" But in conversation about the domestic partner benefits debate, Cook's temperament becomes saltier. Recounting a recent speech he gave to local pastors, he said he asked who among them was without sin. None raised their hand.
"Since you're a bunch of damnÖ sinners, I shouldn't provide services to any of you," he told the group, adding that he didn't see where Jesus "told us we were supposed to judge one another."
Cook and a majority of the City Council voted in June to reject the voter-approved ordinance. They said their decision was about fairness, undoing an effort that had gone too far and sending a message to businesses and to other communities about El Paso's values. "When you look at cities that are thriving, those cities promote a culture of inclusiveness and openness," Ortega said.
Overturning the voter referendum outraged Brown and his supporters, who decided to launch a recall effort. "The mayor does not care about the taxpayers," Brown said in the den of his east El Paso home. "The mayor does not care about the will of the people."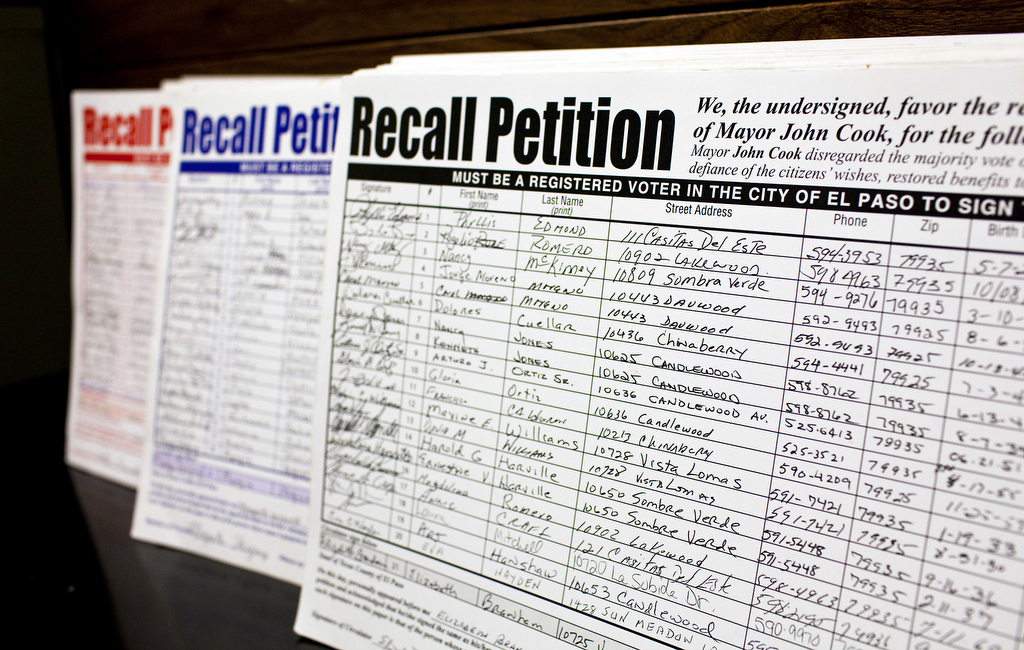 Last week, his group, El Pasoans for Traditional Family Values, submitted to the city clerk more than enough petition signatures to guarantee a recall vote on the mayor and two council members (two other council members who voted for domestic partner benefits were not included because their terms already ended). Former Democratic state Rep. Norma Chavez said people were angry that the city wanted to provide benefits for unmarried couples, but they were even more upset that the council overturned the ordinance voters approved.
Cook filed a lawsuit to stop the petition effort, arguing that Brown had gathered signatures in his church and at local businesses, a practice he argues is prohibited under state law. The lawsuit has so far been unsuccessful. Brown declined to comment on the allegations.
While some groups have organized in support of the mayor and the council members, the city's gay community has been noticeably quiet.
Tony Ramos, a retired Army sergeant who works on a statewide HIV and AIDS prevention program, said the gay community is taking a wait-and-see attitude. "For most of us here, being gay is not an issue," Ramos said.
But he predicted that gay El Pasoans would band together to fight for those who have supported them. "People are tired and they are fed up," Ramos said. "And they do not appreciate El Paso being painted as such a backwards type of city."
Richarda Momsen, El Paso's city clerk, said she will present the recall petition at the council meeting this week. Then, she will schedule a recall vote for the next possible election date, which is in May.
All three of the targeted city leaders said they plan to fight against the recall election because they want to send a message to El Pasoans and to others that the city is progressive and inclusive.
Brown is steeling himself for the coming battle, too, and he said he is determined to see to it that Cook and the others are driven out and that the city stops providing benefits to gays.
"Homosexuality is being trumpeted as a moral activity," he said. "How will they ever repent and turn to Christ?"
Texas Tribune donors or members may be quoted or mentioned in our stories, or may be the subject of them. For a complete list of contributors, click here.
Quality journalism doesn't come free
Perhaps it goes without saying — but producing quality journalism isn't cheap. At a time when newsroom resources and revenue across the country are declining, The Texas Tribune remains committed to sustaining our mission: creating a more engaged and informed Texas with every story we cover, every event we convene and every newsletter we send. As a nonprofit newsroom, we rely on members to help keep our stories free and our events open to the public. Do you value our journalism? Show us with your support.
Yes, I'll donate today
---
Information about the authors