Guest Column: Past as Prelude? Perry in Texas and Iowa
An Iowa victory sent George W. Bush on to capture the Republican nomination in 2000. How might Iowans judge Texas' next governor some 12 years later?
Gov. Rick Perry entered the Republican presidential race with a bang in recent weeks and has surged to front-runner status ahead of Mitt Romney in national polls. However, the first major hurdle to winning his party's nomination still stands five months away, when Iowa Republicans caucus to weigh in on who should lead their party into November's showdown with President Obama.
As the nation's first contest, Iowa is widely viewed as crucial in the battle for the nomination. An Iowa victory sent George W. Bush on to capture the Republican nomination in 2000. How might Iowans judge Texas' next governor some 12 years later?
If past is prelude, a careful examination of Perry's past job approval ratings can shed light on this question.
While Perry is a new face to Iowa Republicans, he has a long track record with Texas Republicans given his almost 11 years as governor and previous positions as lieutenant governor and agriculture commissioner. Since 2008, the University of Texas has conducted the only regularly occurring, nonpartisan statewide poll of Texans. Over three years (the last two of them done in partnership with The Texas Tribune), these polls have tracked Perry's job approval, including his standing among key Republican constituencies.
Some notable characteristics distinguish Iowa Republican caucus goers. A recent profile of this group by the Des Moines Register found that somewhere in the high 40 percent range identify as evangelical Christians — slightly more than the nation as a whole. They are also highly educated, with about half holding a college degree.
Caucus goers are more male than female. Males account for somewhere in the mid-50 percent range of the group. By contrast, somewhere in the mid-40 percent range are female. These voters also have a large proportion of higher-income earners, with about 40 percent coming from households with annual incomes of $70,000 or more. Finally, the group is very conservative, with about 80 percent identifying as mostly or very conservative.
According to the UT/Tribune polls, Perry has traditionally performed well among most of these groups. To be sure, Perry's job approval in his home state should not be considered a perfect predictor of his appeal nationwide. However, these polls offer the best available look at his electoral strengths and weaknesses.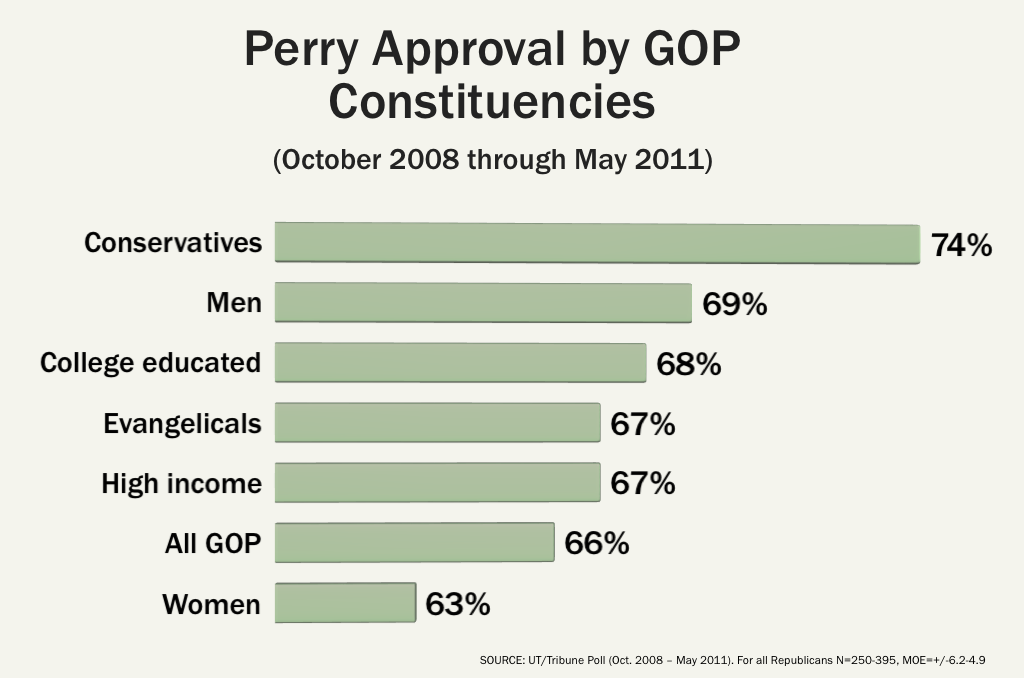 Ten polls have been taken since October 2008, with Perry averaging about 66 percent approval among Republican voters. His approval is at least as high or higher among the core Republican constituencies that decide the Iowa caucus.
Republican gender gap
His approval ratings do reveal a gender gap. While more men than women caucus for Republicans in Iowa, women still account for more than 40 percent of caucus goers. Among Texas Republicans, men are on average slightly more supportive of Perry than women. However, this gender gap has fluctuated in magnitude over time.
In late 2008 and early 2009, Perry's gender gap among Republicans exceeded 10 percent. This may reflect in part a backlash against his 2007 executive order requiring that adolescent girls receive the HPV vaccination. These polling data do not date back to 2007. However, the gender gap did close in 2009 during the gubernatorial campaign. This may suggest that, whatever the cause of Perry's gender gap, it was not a serious consideration among Republican women during the election season.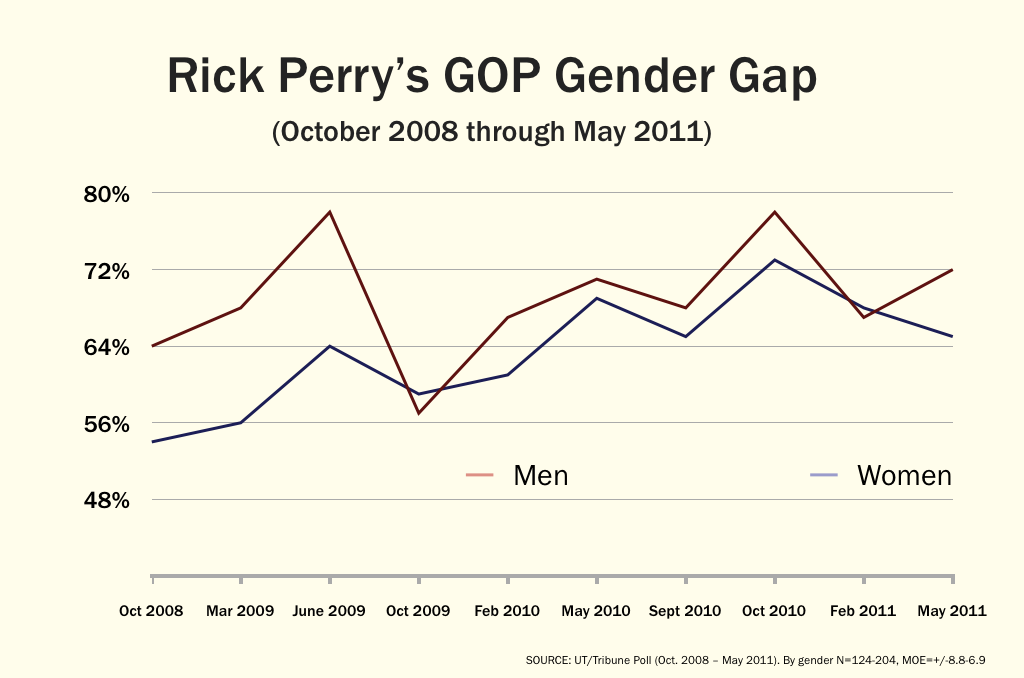 A focus on jobs, the economy, and federal spending may have lessened gender's impact on the 2010 governor's race, but that does not mean that Perry has resolved his gender gap. With that election behind him, the gap has begun to re-emerge in the most recent May 2011 poll.
Whether this will matter in Iowa depends in large part on Perry's chief rivals and the issues that come to dominate the minds of voters. Our polls suggest that women represent a potential weakness for him. In the recent Tea Party Express-sponsored Republican presidential debate in Tampa, Fla., the only declared woman to seek the Republican nomination, U.S. Rep Michele Bachmann, R-Minn., assailed Perry for his HPV vaccine executive order. U.S. Sen. Kay Bailey Hutchison was unable to gain traction on the issue in her 2010 gubernatorial primary challenge. However, it remains to be seen if Republicans — and especially Republican women — who are less familiar with the Texas governor will show him the kind of forgiveness Perry received from those in his home state who were more familiar with him.
Conservative strength
If women are Perry's weakness, then conservatives are his greatest strength. In the UT/Tribune polls, Republicans who identify as mostly or very conservative are the governor's strongest supporters. On average, about three-quarters of conservative Republicans approve of his job performance as governor, almost 10 percent higher than his average approval among all Republicans. Moreover, this trend holds over time. Perry's demonstrated ability to connect with conservatives bodes well for him in Iowa, where conservatives account for eight in 10 Republican caucus goers.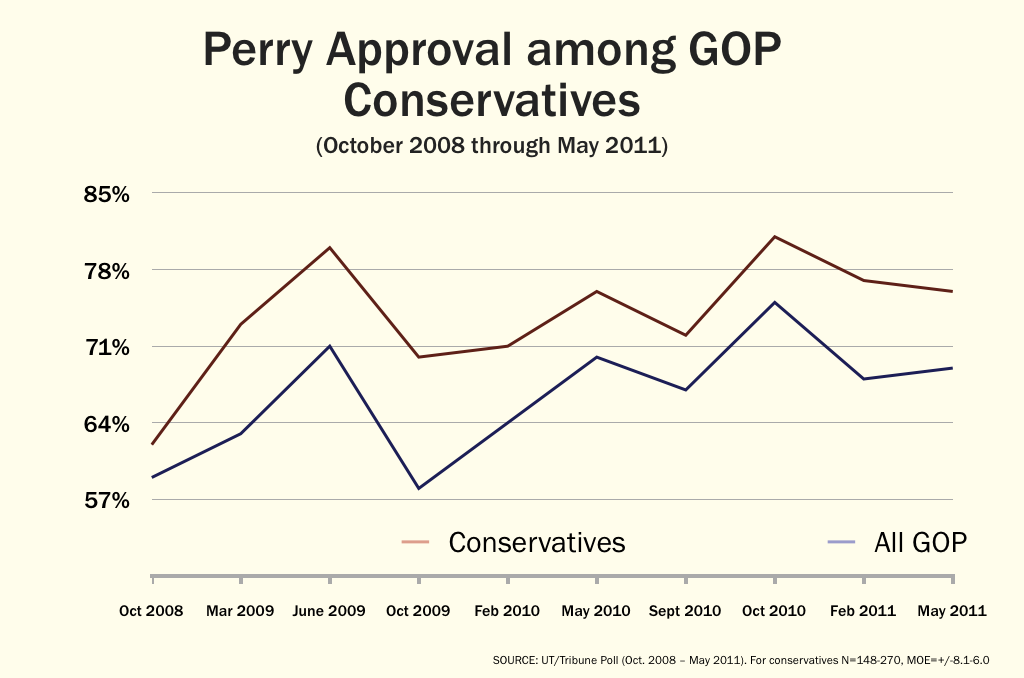 While strong among conservatives, Perry's overall Republican approval has not always been consistent. His average approval of 66 percent among his own party is sufficient but not stellar. It has ranged from a low of just 58 percent in October 2009 to a high of 75 percent just before his election to a fourth term as governor.
Election-season spike
Common wisdom holds that the governor performs at his best when campaigning. The UT/Tribune polls bear this out. Since his first campaign for the Texas House in 1984, he has never lost an election. In late 2009, Perry appeared vulnerable in a primary challenge by Hutchison. As the election season heated up, so did his approval numbers. By the time of his commanding primary victory, Perry's approval numbers were well on track for a near 20-point surge among Republicans throughout the election season.
As Perry embarks on the greatest campaign of his political life, the UT/Tribune polls suggest both strengths and weaknesses as the governor approaches the Iowa caucuses. While he historically performs well among key groups of Iowa caucus goers, his support has suffered from a gender gap and overall inconsistency. However, his strong support among conservatives and demonstrated strength as a campaigner underscore why Texans have returned him to the governor's office three times and why he is a commanding presence in the field of Republican presidential candidates.
Jerod Patterson researches public opinion and public policy at the Irma Rangel Public Policy Institute at the University of Texas at Austin and has worked on the University of Texas and UT/Texas Tribune polls since 2008. He is a Ph.D. candidate in the Department of Government at UT.
Texas Tribune donors or members may be quoted or mentioned in our stories, or may be the subject of them. For a complete list of contributors, click here.
Texans need truth. Help us report it.
Independent Texas reporting needs your support. The Texas Tribune delivers fact-based journalism for Texans, by Texans — and our community of members, the readers who donate, make our work possible. Help us bring you and millions of others in-depth news and information. Will you support our nonprofit newsroom with a donation of any amount?
Yes, I'll donate today
Explore related story topics