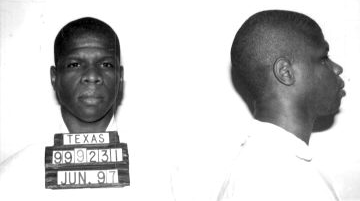 The Texas Board of Pardons and Paroles today voted against recommending clemency for Duane Edward Buck, rejecting the pleas of his lawyers, a victim he shot and a prosecutor who was on the team that sentenced him to death.
During Buck's 1997 capital murder trial in Houston, Dr. Walter Quijano told jurors that the fact he was black meant Buck was more likely to be violent in the future.
The same psychologist gave similar testimony in six other death row cases. In each, the defendants were given new trials to determine their sentences after then-Attorney General John Cornyn admitted the state erred by allowing the testimony about race.
Buck, though, has not received a retrial and is scheduled to die Thursday for the 1995 shooting deaths of Debra Gardner and Kenneth Butler.
The Texas Tribune thanks its sponsors. Become one.
Last week, Phyllis Taylor, who survived a gun shot wound to the chest, urged the board and Gov. Rick Perry to grant Buck clemency. And this week, Linda Geffin, who served as second chair during the initial Buck prosecution, wrote a letter calling on Perry and the board to halt the execution and allow for a new trial untainted by racial questions.
Today, Buck's attorney, Kate Black, said she was disappointed with the board's decision, and she urged Perry and Harris County District Attorney Pat Lykos to take action. Perry cannot grant clemency without a recommendation from the parole board. He only has authority to issue a one-time, 30-day reprieve. Lykos could withdraw the execution date for Buck.
"We urge Gov. Perry to grant a temporary reprieve to allow all parties involved to work together to ensure that Mr. Buck receives a new and fair sentencing hearing untainted by race-based testimony," Black said.
Lucy Nashed, a spokeswoman for Perry, said his office had not received a request for a 30-day reprieve from Buck's lawyers. When the request is received, she said, "just like every other request for a 30-day reprieve, it will be reviewed." The Harris County district attorney's office has said it does not plan to intervene.
Texas Tribune donors or members may be quoted or mentioned in our stories, or may be the subject of them. For a complete list of contributors, click here.