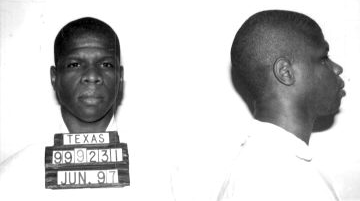 A lawyer who worked on the Harris County District Attorney's prosecution team that sent Duane Edward Buck to death row is calling on state officials to halt the execution scheduled for Thursday and allow for a new sentencing trial in the case.
Buck was convicted of murdering two people in Houston in 1997. During his trial, psychologist Dr. Walter Quijano told jurors that the fact he was black meant Buck was more likely to be violent in the future. Quijano gave similar testimony in six other death row cases, and in each, the defendants were given new trials to determine their sentences. Buck, though, has not been allowed a new trial despite an admission from then-Attorney General John Cornyn that the state erred by allowing the racially tinged testimony.
"When a defendant's race is introduced as a factor in guilt or sentencing – even inadvertently – the integrity of the case is compromised," said Mark MacDougall, a pro bono lawyer at Akin Gump, who often works with indigent defendants in death penalty cases. "The only remedy is a new trial. This is never more critical than in a capital murder case."
As his execution date approaches, Buck's lawyers are calling on the Texas Board of Pardons and Paroles and Gov. Rick Perry to grant clemency and allow a new trial to determine his sentence. Last week, one of Buck's surviving victims urged clemency on his behalf.
The Texas Tribune thanks its sponsors. Become one.
Today, Linda Geffin, who served as second chair during the initial Buck prosecution, wrote a letter calling on Perry and the parole board to halt the execution and allow for a new trial untainted by racial questions.
"It is regrettable that any race-based considerations were placed before Mr. Buck's jury," she wrote. "No individual should be executed without being afforded a fair trial, untainted by considerations of race."
Texas Tribune donors or members may be quoted or mentioned in our stories, or may be the subject of them. For a complete list of contributors, click here.