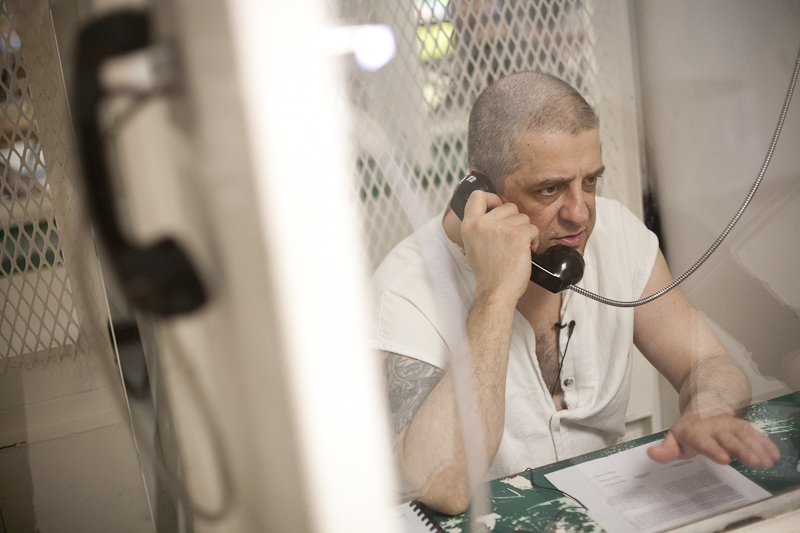 Lawyers for death row inmate Hank Skinner filed a motion Friday seeking DNA testing under a new Texas law that expands access to such testing. And they have asked the state to withdraw the Nov. 9 execution date set for Skinner.
"Texas is wrong to seek Hank Skinner's execution without allowing for DNA testing," Rob Owen, one of Skinner's lawyers and director of the University of Texas School of Law's Capital Punishment Clinic, said in a statement. "The state should be leading the search for truth, instead of continuing to waste taxpayer dollars on its 11-year-long campaign to block testing of critically important scientific evidence."
Skinner was convicted in 1995 of killing his live-in girlfriend and her two sons in Pampa. He has proclaimed his innocence from the start, arguing that he was too inebriated from a mixture of vodka and codeine to overpower the three victims.
DNA evidence presented at his trial showed Skinner's blood was at the scene, and an ex-girlfriend — who later recanted her testimony — told jurors that he confessed to her. But not all the available DNA evidence was tested. A rape kit, biological material from his girlfriend's fingernails, sweat from a man's jacket resembling one that another potential suspect often wore, a bloody towel and knives have never been tested. Skinner's original trial lawyers did not seek testing on the items, because they worried the results might be incriminating.
The Texas Tribune thanks its sponsors. Become one.
Skinner for years has asked the state to release the evidence now for testing, but Texas courts have repeatedly rejected those requests. Citing restrictions in Texas' 2001 post-conviction DNA testing law, they ruled that Skinner should have had the evidence analyzed in 1995. They have also agreed with prosecutors who argue that more tests wouldn't prove that Skinner was innocent.
Last year, though, less than an hour before he was scheduled to be executed, the U.S. Supreme Court stayed Skinner's punishment. The high court sent the case back to the federal district court to decide whether Skinner is entitled to additional DNA testing. A decision is expected in the coming months on whether Texas courts arbitrarily and unconstitutionally applied the state's 2001 post-conviction DNA testing law.
During the legislative session this year, though, lawmakers approved a modification to that law, allowing more access to post-conviction DNA testing. The original legislation allowed testing only in cases in which DNA tests were not conducted during the original trial because the technology was unavailable or for some other reason that was not the fault of the defendant. This year, lawmakers repealed those restrictions. As of Sept. 1, post-conviction testing is available for DNA evidence not previously analyzed, and for DNA evidence that was tested but that can be re-examined with newer technology. "The new law was intended to make advanced DNA testing available in all cases where it can aid the truth-seeking process, and Skinner's case falls squarely within that category," said state Sen. Rodney Ellis, D-Houston, who helped write the law.
"Testing the evidence will serve the public interest by providing certainty in this case," said Nina Morrison, staff attorney at the Innocence Project. "It's just common sense to test the DNA evidence."
The Texas attorney general's office did not immediately respond to a request for comment.
Texas Tribune donors or members may be quoted or mentioned in our stories, or may be the subject of them. For a complete list of contributors, click here.