From Our Archives: Visualizing Rick Perry's Book, "Fed Up"
Gov. Rick Perry's book, Fed Up!, has 56,000 words with "federal," "government," "people," "Washington" and "states" the most commonly used. His favorite term for Social Security — "Ponzi scheme" — only appears twice.
In a "from the Tribune's archive" entry, we are republishing former Trib data editor Matt Hu-Stiles' work from last November when Gov. Rick Perry's Washington-bashing book Fed Up! first came out. With Perry's entry into the 2012 GOP presidential nomination contest, the book, of course, is receiving new scrutiny.
As Hu-Stiles wrote in his original story, "I wondered how the book would render as a word cloud, a visualization technique that enlarges words by frequency. We obtained a digital copy of the book, which has 56,393 words (excluding footnotes and Newt Gingrich's foreword), and created the cloud below. Not surprisingly, Perry uses 'federal,' 'government,' 'people,' 'Washington' and 'states' most often."
Perry's favorite term for Social Security, the one getting all the attention on the campaign trail — "Ponzi scheme" — appears only twice. And "monstrous lie," which is what Perry called Social Security at an Iowa campaign stop over the weekend? Not once.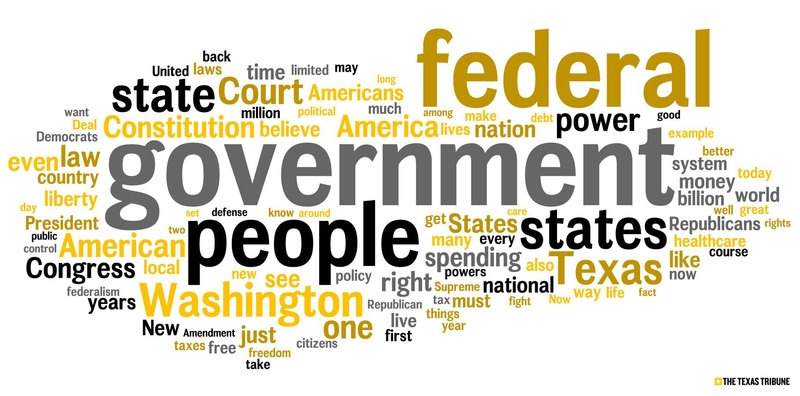 Texas Tribune donors or members may be quoted or mentioned in our stories, or may be the subject of them. For a complete list of contributors, click here.
Support public-service journalism that gets the context right
Your donations make our reporting possible and keep it free for all to access. Support our nonprofit newsroom by May 11, and your gift will help us unlock $25,000 in matching funds from our partners at Tito's Handmade Vodka, the Bernard & Audre Rapoport Foundation and the Suzanne Deal Booth Charitable Trust.
Yes, I'll donate today