Texas Drought Causing Increase in Black Bear Encounters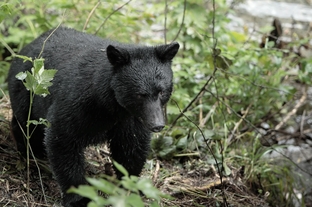 The Texas Parks and Wildlife Department is warning that the worst one-year drought on record is causing black bears to change their behavior, roaming farther from traditional habitats and potentially becoming more aggressive toward people.

The black bear, one of the largest mammals in North America, has made a comeback in Texas after widespread hunting and habitat destruction reduced the state's population and landed it on the state's "threatened" list. The bear has a diet that consists mostly of vegetation and is normally reluctant to approach humans.

Black bears mostly live in West Texas, although the Parks and Wildlife website says an annual sighting in the Hill Country isn't unusual. In a statement issued by the department, Mike Krueger, district leader of the Edwards Plateau Wildlife District, said that severe drought conditions and a lack of available food and water in the bears' natural habitat appears to be driving the animals to travel outside of their normal range and modify their behavior.

"We're getting a few reports of people seeing bears during daylight hours, and that's unusual," Krueger said. "It's the associated water around homes, and the food, the pet food, the smell of cooking — all those things could attract bears."

In early August, a 2-year-old black bear was killed in Kerr County, north of San Antonio. The bear approached a man walking with his dogs, who said he felt threatened and shot the bear in self-defense. Killing black bears is illegal in Texas, because of the animals' protected status.
Officials with Parks and Wildlife said that recent sightings in Central Texas were often of young bears, turned out by their mothers to establish new home ranges. The bear killed in Kerr County weighed only 103 pounds.
Krueger urged clemency for the animals. "We need to encourage everyone to be more tolerant of bears," he said. "We recommend people try to scare bears away, or go to a safe place and call us. But killing a bear should be a last resort unless a person is truly threatened."

The drought has had a wide array of effects on animal health and behavior in Texas. In July, the Tribune reported that animal rabies cases had increased two and a half fold over the previous year.

In the Parks and Wildlife brochure "Bear Safety in Mind," the following advice is given to those who stumble across a black bear in the wild:

"If people encounter a bear at close range, they should talk calmly while backing away slowly. Don't make direct eye contact, and don't run away. If a bear approaches you, stand your ground and raise your arms, backpack or jacket to appear larger, and yell at the bear to scare it off."
Texas Tribune donors or members may be quoted or mentioned in our stories, or may be the subject of them. For a complete list of contributors, click here.