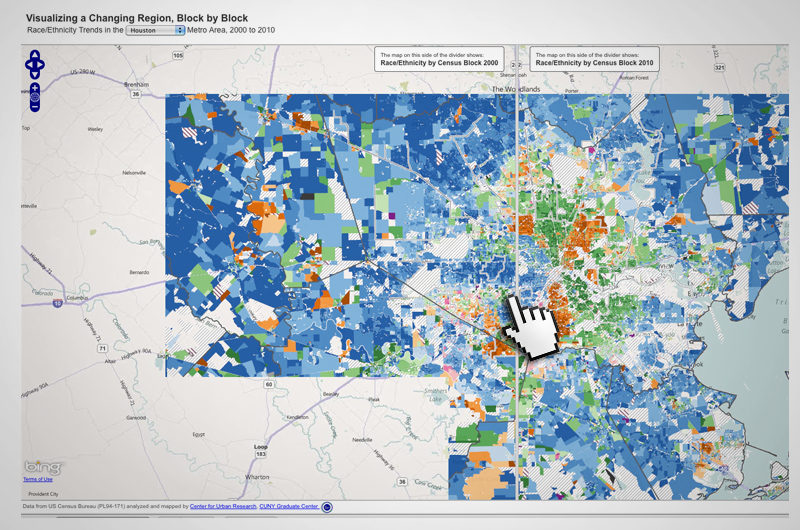 To help visualize demographic changes from 2000 to 2010, the Center for Urban Research at the City University of New York updated its interactive maps of Houston and other major U.S. cities today. Now you can examine changing neighborhood diversity in three different ways.
In the original map, you move a slider back and forth to visualize the demographic changes from 2000 to 2010. "The visual power is really in the transition," says Steve Romalewski, the director of the center. By moving back and forth between the 2000 and 2010 versions of the map, you can identify large-scale or zoomed-in regional changes.
One of the new map views also takes advantage of the power of transition. In the overlay version, you transition slowly between the 2000 and 2010 maps to see the demographic changes over time. Romalewski points out that by using the overlay map, it's easy to see the predominantly white areas outside Houston in the 2000 map becoming more diverse in the 2010 map. "The suburbs are becoming more diverse and these maps portray that very powerfully."
The third view puts the maps side by side. "The side-by-side seems to be best when you've already zoomed to an area that you're interested in and you just want to linger and absorb how the changes look," said Romalewski. "You can just look at both, go back and forth and get a good sense of how things have changed."
The Texas Tribune thanks its sponsors. Become one.
CUNY also added more cities for users to explore, but Houston remains the only city in Texas visualized by the maps. Romalewski says that, overall, they've noticed diversity in traditionally segregated areas — like the Upper East Side and Central Harlem in New York — is increasing, while other areas continue to become more concentrated with a specific ethnic group.
Funding for the project came from a variety of private philanthropic foundations, including the Hagedorn Foundation and the MacArthur Foundation. Romalewski said the web site was developed to help make Census data more accessible and digestible for researchers, community activists and foundations investigating changing social demographics in urban regions.
Texas Tribune donors or members may be quoted or mentioned in our stories, or may be the subject of them. For a complete list of contributors, click here.