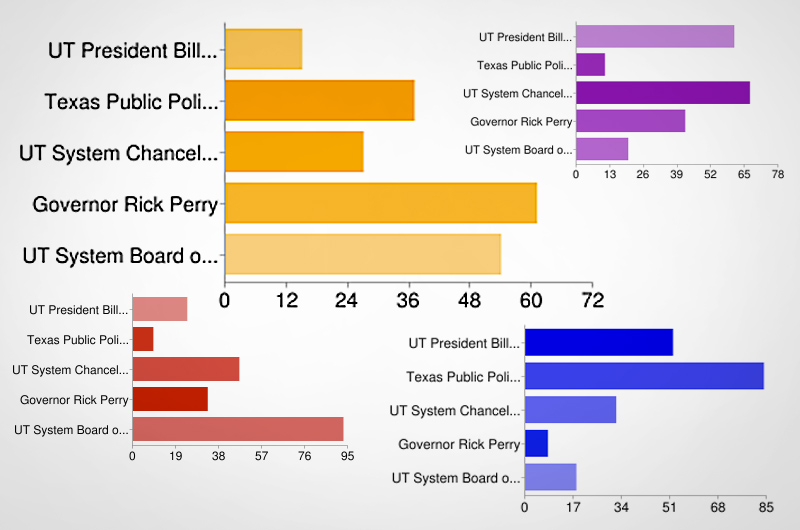 Earlier this week, we published a quiz to see if readers could distinguish between comments made about higher education by Gov. Rick Perry, University of Texas President Bill Powers, and others. It turns out: They (sometimes) can't!
We selected a total of 10 quotations, each one uttered or written by Perry, Powers, a Texas Public Policy Foundation official, University of Texas System Chancellor Francisco Cigarroa, or the UT System Board of Regents Chairman Gene Powell.
The choices were designed to get more difficult as the quiz went along, and that played out in the results. To date, more than 230 people took the quiz, and for the most part got the first five correct. The back half, though, has proven difficult.
In one instance, an overwhelming majority attributed a quote of Powell's to Powers. Meanwhile, Powers received the fewest votes for one of his actual statements. Voters mistook a quotation by Perry for one of Cigarroa's, whose actual remark was credited to the TPPF.
We'll take the questions one by one, providing the percentage of the votes received by each candidate followed by the correct answer (Spoiler Alert!).
1) "We must move forward today with a shared common goal to make each UT institution the best it can be among the national peers, in a spirit of transparency and full accountability."
Breakdown: 52 percent said Cigarroa, 29 percent guessed Powell, 10 percent said Powers, 7 percent said Perry, and 2 percent thought it was the TPPF.
Answer: Cigarroa
2) "We must continue to embrace change and we must do it with an enlightened vision of what a great teaching and research University does for our society and has done for more than a century."
Breakdown: 70 percent guessed Powers, 16 percent said Cigarroa, 6 percent said Powell, and Perry and the TPPF split the difference with 4 percent apiece.
Answer: Powers
3) "I know there are common goals upon which we agree, notably improving access to quality higher education that is affordable for more Texans, pursuing innovative research that creates knowledge and powers the Texas economy and enhancing the reputation of our wonderful flagship at UT Austin."
Breakdown: 45 percent said Powell, 23 percent said Cigarroa, 16 percent guessed Perry, 12 percent said Powers, and 4 percent voted TPPF.
Answer: Powell
4) "I am committed to improving higher education by making our colleges more accessible and affordable; improving accountability and transparency in our schools; improving graduation rates; and making sure taxpayers are getting the most from the schools, teachers and research they help fund."
Breakdown: 75 percent went for Perry, distantly trailed by Powell at 13 percent, Cigarroa at 5 percent, Powers at 4 percent, and the TPPF at 2 percent.
Answer: Perry
5) "[We seek] to put student's first, valuing research that serves these students or wider societal needs. Toward those ends, we ask for transparency and accountability for use of what is, after all, taxpayer money."
Breakdown: 71 percent guessed the TPPF, 11 percent said Powell, 8 percent said Perry, 6 percent said Cigarroa, and the remaining 4 percent went to Powers.
Answer: TPPF
Now, this is where things get interesting:
6) "University research is the lifeblood of our state's innovation, medical treatments and job creation."
Breakdown: 33 percent said Cigarroa, 31 percent said Powers, 20 percent said Perry, 10 percent said Powell, and 6 percent said the TPPF.
Answer: Perry
7) "Rewarding great teaching at the undergraduate and graduate level is essential to the academic enterprise. Teacher evaluations must be a combination of peer review and student evaluations."
Breakdown: 44 percent said the TPPF, 26 percent said Powers, 16 percent said Cigarroa, 9 percent said Powell, and 4 percent said Perry.
Answer: Cigarroa
8) "Demand way outstrips supply. The capacity issue in Texas is an important one. That is something over the next ten years we have got to get ahead of that curve in Texas because we have a growing population and a growing percentage of the population that is coming to colleges."
Breakdown: 32 percent said Perry, 27 percent guessed Powell, 19 percent said TPPF, 14 percent said Cigarroa, and only 8 percent went with Powers.
Answer: Powers
9) "Create a financial incentive to improve the effectiveness and efficiency of teaching at Texas' colleges and universities that will help attract the best teachers from across the nation."
Breakdown: 73 percent said it was the TPPF, 12 percent said Perry, 7 percent Cigarroa, 7 percent said Powell, and 2 percent said Powers.
Answer: TPPF
10) "Academic research is one of the pillars of greatness of UT Austin."
Breakdown: 64 percent guessed Powers, and trailing far behind were 13 percent for Powell, 12 percent for Cigarroa, 8 percent for Perry, and 5 percent for the TPPF.
Answer: Powell
And there you have it. A list of the answers with links to source material can be found here.
Texas Tribune donors or members may be quoted or mentioned in our stories, or may be the subject of them. For a complete list of contributors, click here.