Texas Inmate at the Nexus of Execution and Abuse
A small church in an impoverished south side San Antonio neighborhood became a place of fear and shame for children who allege they were victims in the 1980s of sexual abuse by a prominent priest. One of those alleged victims is death row inmate Humberto Leal.
SAN ANTONIO — St. Clare's is a small church with a tight-knit congregation in this impoverished south side neighborhood, a place where neighbors come for a respite from the gritty streets.
But in the 1980s, it became a place of fear and shame for children who allege they were victims of sexual abuse by a prominent priest.
One of those alleged victims is Humberto Leal, a death row inmate who in 1995 was convicted of raping and bludgeoning to death a 16-year-old girl. His attorneys this week filed a clemency petition on his behalf. They asked Gov. Rick Perry and the Texas Board of Pardons and Paroles to stay his execution and allow him to testify both as a victim and a witness of abuses allegedly perpetrated decades ago by Father Federico Fernandez, who served at St. Clare's from 1983 to 1988.
Now, others who attended St. Clare's have been spurred by Leal's recent revelations to come forward and report similar abuse. They hope that by telling their stories they can stop the July 7 execution of Leal, and spur law enforcement to investigate and prosecute Fernandez.
The priest, who currently works in a church in Bogotá, Colombia, denies ever abusing anyone.
Church authorities in San Antonio removed him from the parish and sent him to New Mexico for treatment in 1988 after a grand jury indicted him for sexually abusing two other boys. In statements to police, the boys described multiple occasions when Fernandez schemed to get them alone and groped them. After the indictment, the boys' family reached a settlement with the church, and the young men decided not to testify. Charges against Fernandez were dropped, and terms of the settlement were sealed.
Even before Fernandez arrived at St. Clare's, he had been accused of sexual misconduct. In 1983, San Antonio police charged him with exposing himself in public, though the charges were eventually dropped. And since Leal's revelation, others who attended St. Clare's have reported similar abuse.
Under the shadows of a spindly tree in St. Clare's parking lot — the modest structure where he was baptized and later married — a mild-mannered 44-year-old in work boots described how the priest who had been his boyhood role model nearly shattered his faith.
"I wanted to give myself to the church, and I got something bad," said the man, who is not being identified because he is a victim of sexual abuse.
At 15, he wanted to be a priest. He faithfully attended Bible classes at St. Clare's. He grew close to the priests there, and in particular Fernandez. It was Fernandez, he said, who took him into a room alone and then stripped naked in front of him.
"I was just played for a fool," he said. But now he hopes that exposing his pain can help relieve someone else's. "This person killed persons in their heart and their faith, and he gets away with it."
Leal's attorneys argue that his case has been badly botched from the outset. He was never informed that, as a Mexican citizen, he had a right to assistance from the consulate. With only the meager means of his parents, Leal relied on court-appointed lawyers who did little to defend him.
The facts of what led to Leal facing execution next month are in dispute — all, that is, except that Adria Sauceda was raped and murdered. Leal maintains he did not rape the girl and witnesses testified at his trial that she had been gang raped at a party. Witnesses told the authorities that Leal arrived at the scene and, outraged at what had happened to her, took her away from the party. He admitted that he and the girl physically fought after they left, and that she could have died after he pushed her and she hit her head on a rock. The police found her body about 100 yards from the location of the party.
Leal's original lawyers also failed to investigate whether evidence of his tortured youth might have persuaded jurors to spare him the death penalty, said Sandra Babcock, a Chicago-based lawyer for Leal. "This is the kind of evidence that is so deeply compelling and humanizing that for the jury not to have heard it and not to have been able to consider it is reason alone to stay this case," she said.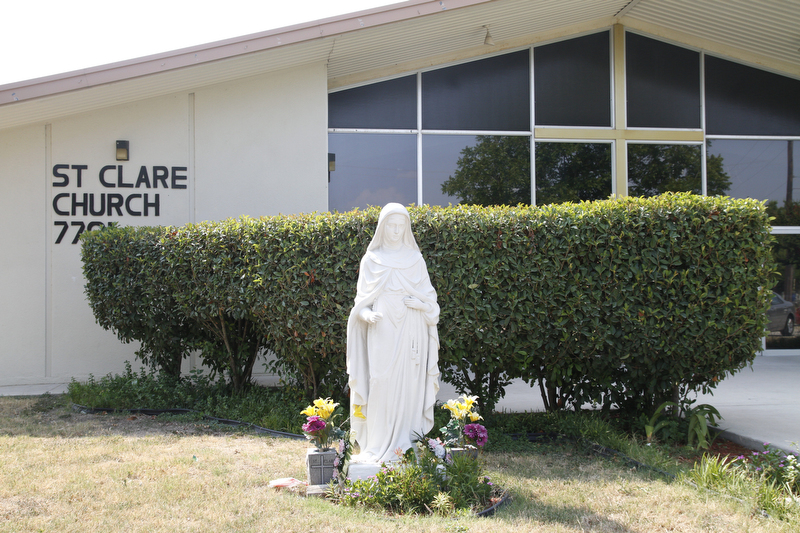 For Leal, St. Clare's was a refuge from an abusive home. His mother once tied him and his sister to a tree and beat them when they tried to escape, his lawyers say. When he misbehaved in communion classes, nuns would send Leal to Fernandez for punishment.
In March, during an interview with Dr. David Lisak, the forensic psychologist retained by his attorneys, Leal for the first time described the kind of punishment he received from Fernandez. It began with inappropriate touching and culminated, Leal said, with anal rape when he was in fifth grade. Lisak wrote that during the interview Leal "was experiencing intense humiliation and shame," adding it was "so intense that he could not continue speaking."
René — who asked that only his first name be used to protect the identity of his family — attended St. Clare's from the time he was 7 in the 1950s. He was married there, and all six of his children were baptized in the church. When Fernandez arrived, René was the youth minister. He felt uneasy about Fernandez from the start, he said. Not long after, some of the youths began to tell alarming stories about unusual activities initiated by the priest. But his warnings to church authorities went unheeded, he said, and he and his family left St. Clare's for another parish.
Then, last year, one of René's daughters revealed that Fernandez had abused her, too. René said he knew Leal and his family from the neighborhood. Given his daughter's experience and those of other children, René said he believes Leal's story. "He's describing the same things other people are describing," he said. "Our government shouldn't kill the guy until all this has been settled."
Reached by phone in Bogotá, where he is serving at the Templo de San Francisco,Fernandez said he did not remember Leal. "No, never, I never abused sexually anybody," he said. "I never met a person with that name."
Deacon Pat Rodgers, spokesman for the Archdiocese of San Antonio, said authorities there have informed the Franciscan Order, to which Fernandez belongs, of the new allegations by Leal. He said the diocese had been unable to locate Fernandez. "Things are moving as quickly as they can, but we have very little information to go on," Rogers said.
Sexual abuse survivors groups, including the Survivors Network of Those Abused by Priests and the National Survivors Advocates Coalition, have sent Perry and the Board of Pardons and Paroles a letter urging them to grant a reprieve for Leal and allow further investigation of Fernandez.
The head of the international order of Franciscan priests wrote to state officials on Leal's behalf. Father William Spencer wrote that he could not confirm Leal's account of abuse, but given Fernandez's history, it raises the possibility that jurors who sentenced Leal to death were unaware of mitigating evidence that could have persuaded them to imprison him for life instead. Spencer did not return calls requesting comment.
Katherine Cesinger, a spokeswoman for Perry, said the governor could not grant a reprieve without a recommendation from the Board of Pardons and Paroles.
Enrico Valdez, chief of the Bexar County district attorney's appellate division, said his office is not considering withdrawing Leal's execution date.
"I'm always a little suspect when it's right before an execution date that claims of this nature arise," Valdez said, noting that Leal has had many opportunities since he was convicted to bring up his claims of sexual abuse. And while prosecutors would investigate any claims of sexual abuse, Valdez said, it is highly likely that the statute of limitations has expired on alleged offenses that occurred more than two decades ago. "There really is no reason at this point to delay the execution any longer."
Texas Tribune donors or members may be quoted or mentioned in our stories, or may be the subject of them. For a complete list of contributors, click here.
Texans need truth. Help us report it.
Independent Texas reporting needs your support. The Texas Tribune delivers fact-based journalism for Texans, by Texans — and our community of members, the readers who donate, make our work possible. Help us bring you and millions of others in-depth news and information. Will you support our nonprofit newsroom with a donation of any amount?
Yes, I'll donate today
---
Information about the authors
Explore related story topics