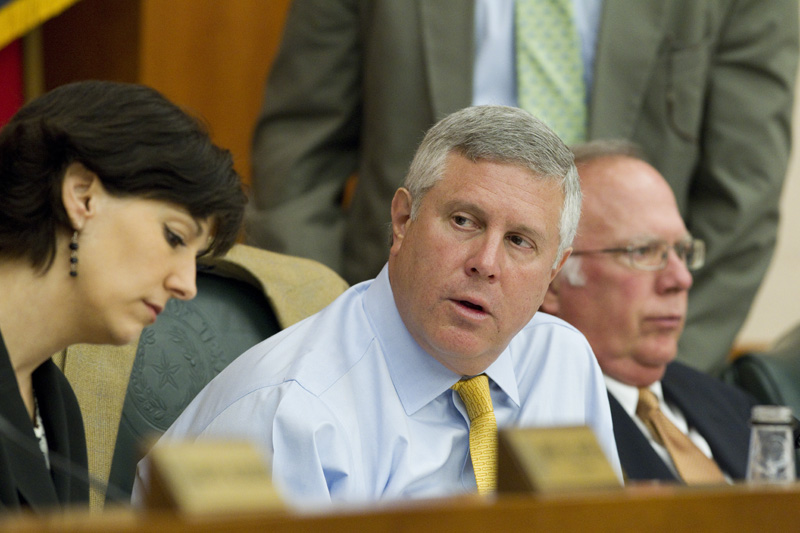 The Texas House Redistricting Committee approved a new version of the congressional map that makes a few tweaks, mainly in North and South Texas. But the overall goal remains the same: Maintain and expand Republican power in Washington.
The map was approved on an 11-5 party line vote in the committee, sending it to the full House. The map looks very much like the one that sailed out of the Senate Monday. But this new version would slightly reduce Hispanic voting strength in the district represented by Republican U.S. Rep. Francisco "Quico" Canseco, who faces a potentially stiff re-match in 2012 from former Rep. Ciro Rodriguez, a Democrat.
The author of the map, Rep. Burt Solomons, R-Carrollton, said the change from his earlier proposal came in response to "concerns of the San Antonio Hispanic community" and is meant to shore up Latino voting strength in the district held by Rep. Charlie Gonzalez, D-San Antonio. It does that by taking Latinos from surrounding districts, including District 23 held by Canseco and a newly proposed District 35.
State Rep. Marc Veasey, D-Fort Worth, said the changes were designed to protect Canseco, easily the most vulnerable Republican in the congressional delegation.
The Texas Tribune thanks its sponsors. Become one.
"They switched some Hispanic and Anglo voters around to make the district safer for Canseco, and make it easier for Anglo voters to control the district," Veasey said.
The House version of the map would also switch around some precincts in Tarrant and Denton Counties, changes that Veasey said would help shore up the re-election prospects of U.S. Rep. Kay Granger, R-Fort Worth.
Overall, the map is designed to give Republicans a decent chance of retaining every congressional seat they now hold. They also would have a good shot at picking up one additional district with the potential elimination of U.S. Rep. Lloyd Doggett, D-Austin, who would be drawn into a heavily Republican seat.
Currently, the GOP has a 23-9 edge in the Texas congressional delegation.
If the newly proposed map gets through all the legal hoops ahead, the GOP could potentially end up with 26 seats, leaving Democrats with 10. That includes two seats that Republican candidates won in 2010, in major upsets in predominately Hispanic districts in South Texas (Canseco being one of them).
Texas Tribune donors or members may be quoted or mentioned in our stories, or may be the subject of them. For a complete list of contributors, click here.