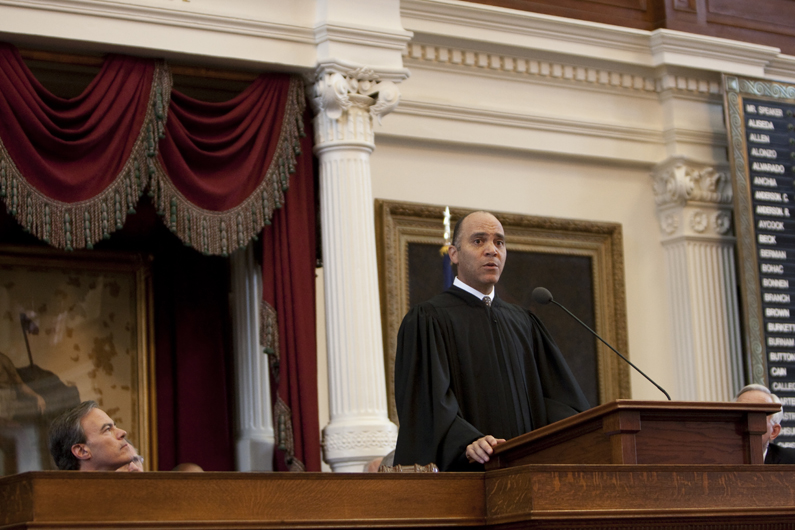 Texas Supreme Court Chief Justice Wallace Jefferson and Justice Nathan Hecht sent lawmakers a letter Wednesday urging them to find $20 million during the special session to help needy people access civil courts.
"The civil justice system is where people can claim for themselves the benefits of the rule of law. It is where the promises of the rule of law become real," they wrote in a letter to state Sen. Royce West, D-Dallas. "A society that denies access to the courts for the least among us denigrates the law for us all."
The economic recession has taken a major toll on organizations that provide legal representation for the poor. Since 1984, those services have been largely funded with interest from the Texas Interest on Lawyers' Trust Accounts program. But during the recession, interest rates cratered, resulting in a $15 million loss in funding for legal aid compared to 2007.
Lawmakers in 2009 appropriated $20 million to prop up the legal services. But those funds were not set aside in 2011. The Senate approved a measure by state Sen. Jose Rodriguez, D-El Paso, that would have replenished the fund, but that measure was eliminated from a crucial budget bill at the last minute, before the entire thing was scuttled by Forth Worth Democrat Wendy Davis' infamous filibuster in the Senate.
The Texas Tribune thanks its sponsors. Become one.
West asked the justices to send him an analysis of the funding situation ahead of the special session and efforts to try to revive lawmakers' support for the program.
Without the funds, the justices wrote, 40 legal aid programs that help about 104,000 Texas families each year could be in jeopardy. As many as 75,000 Texans would be denied basic legal services. The legal aid services help domestic violence victims, military veterans wrongly denied benefits and families who are evicted from their homes despite having paid their bills. Nearly 5.7 million Texans qualify for legal aid.
And the money, the justices wrote, doesn't line lawyers' pockets. Attorneys who represent the indigent clients often work for free or very little. "Some consider this Court conservative," they wrote. "Conservative principles do not call for the rule of law to be denied the most vulnerable members of our community."
Texas Tribune donors or members may be quoted or mentioned in our stories, or may be the subject of them. For a complete list of contributors, click here.