Gov. Rick Perry Flirting With White House Run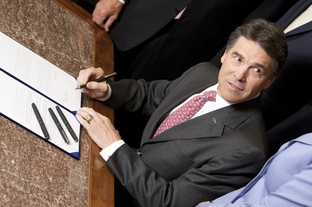 Texas Gov. Rick Perry, in his boldest statement yet about a possible run for national office, said Friday he will think about launching a campaign for president in coming days.
"I'm going to think about it," Perry said. He quickly added, "I think about a lot of things."
Perry, the longest-serving governor in the United States, was speaking to reporters after a signing ceremony marking the passage of a bill requiring Texans to show photo ID before voting. A reporter noted that Hispanic Republicans in the Legislature were urging him to run and had already endorsed him. Perry repeated his most recent mantra that he wouldn't be distracted by presidential talk while the legislative session is ongoing.
Conservatives have been aching for more choices in the approaching 2012 Republican primary. This week, Perry's top strategist, Dave Carney, told the Tribune that the governor is, naturally, "thinking about it" given the flattering comments made recently by some in the GOP, although he "doesn't see any change in his direction."
Perry spokesman Mark Miner, contacted by the Tribune Friday afternoon, downplayed the runaway buzz.
"He has no intention of running," Miner said. "He's thought about it, just like he does many other issues."
The Texas Democrats pounced on Perry's latest comment, which is already sparking a frenzy of speculation about new blood in the GOP primary. (And perhaps the addition of a second Texan, given U.S. Rep. Ron Paul's already announced candidacy).
Democratic spokeswoman Kirsten Gray said Perry is acting just like the kind of politician he skewers on a regular basis.
"Governor Perry spends so much time jetting across the country, playing celebrity and ignoring Texas priorities, that he already fits the mold of a typical Washington politician," Gray said. "If Perry finally announces his candidacy, he would fit right into a GOP field that's already well-treaded by aspiring celebrities hawking books and reality TV shows."
It's worth noting that Perry has in the past repeatedly said he would not, under any circumstances, run for president in 2012.
Of course, that was before Rush Limbaugh recently extolled Perry's virtues for 20 minutes, and before Indiana Gov. Mitch Daniels and former Arkansas Gov. Mike Huckabee said they wouldn't enter the race.
Carney recently told the Tribune that it was impossible not to notice all the clamoring for Perry. And impossible not to ponder, ever so slightly.
"Obviously, it's flattering to have everybody, Rush Limbaugh and all these other conservative, right-of-center leaders, talk about you, urging you to think about it, urging you to run, saying they support you. But I don't see any difference in terms of the governor's thinking," Carney said.
Carney, who is advising an actual announced 2012 candidate — former U.S. House Speaker Newt Gingrich — said Friday that "nothing has changed."
Ross Ramsey contributed to this report.
Texas Tribune donors or members may be quoted or mentioned in our stories, or may be the subject of them. For a complete list of contributors, click here.