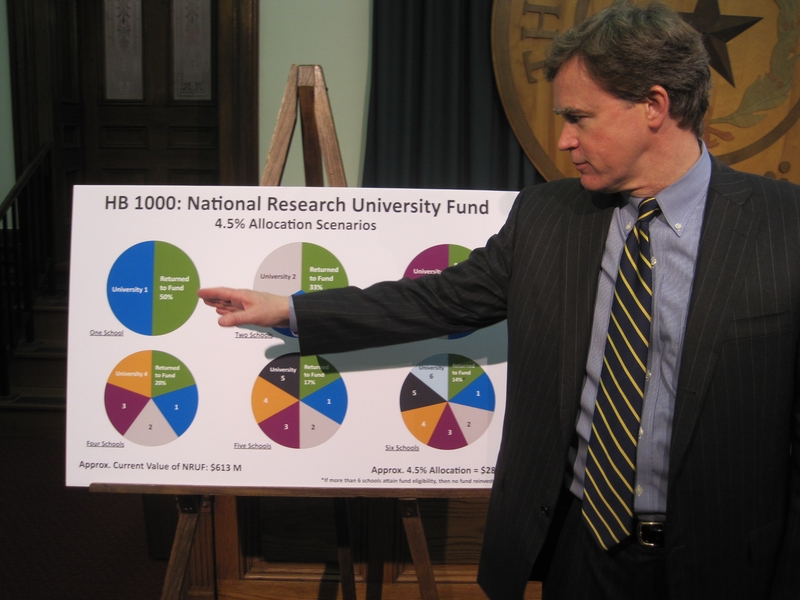 After hitting a brief snag, the bill that creates a mechanism for the leaders in the race to become the state's next tier-one university passed the state Senate today.
Seven institutions that are designated as "emerging research universities" — University of Houston, Texas Tech University, University of North Texas, and the University of Texas campuses in Dallas, Arlington, El Paso and San Antonio — have been competing to be designated the state's next "national research university." Currently, that group includes just three universities: the University of Texas, Texas A&M University and Rice University.
The biggest financial incentive, created by legislation that passed last session, is the National Research University Fund, currently valued at more than $600 million. The competing universities can only access it if they meet certain criteria, which the University of Houston appears to be on the brink of doing followed closely by Texas Tech and UT-Dallas.
However, before they can get their prize, the manner in which funds will be doled out to eligible institutions still needs to be determined by the Legislature. House Bill 1000 by House Higher Education Chairman Dan Branch seeks to do that. But there have been multiple models proposed and some disagreement about how to go about it, which stalled the legislation in the Senate after it passed the House.
The Texas Tribune thanks its sponsors. Become one.
While some wanted a portion of the 4.5 percent payout to go back into the fund to help it grow, others — notably UH — pushed for a system that distributes the full portion, currently valued at nearly $28 million.
In Branch's system, if one university is eligible, the funds available for distribution are divided in half, with half going to the university and the other half going back into the fund. If there are two schools, the money is divided into thirds. If three, then fourths, and so on. In the version the Senate passed, the eligible schools each receive one-seventh of the payout plus an equal share (but no more than 25 percent) of the remaining money.
Following the Senate's passage of the bill, state Sen. Rodney Ellis, D-Houston, issued a statement saying, ""This is a great day for the state of Texas as a whole, the University of Houston and for education in the state of Texas. HB 1000 will likely provide the University of Houston nearly $20 million to help them cross the finish line and become a nationally recognized Tier One institution."
The bill now heads back over to the House, where it will be up to the member to concur or request that the differences get hammered out in conference committee.
Texas Tribune donors or members may be quoted or mentioned in our stories, or may be the subject of them. For a complete list of contributors, click here.