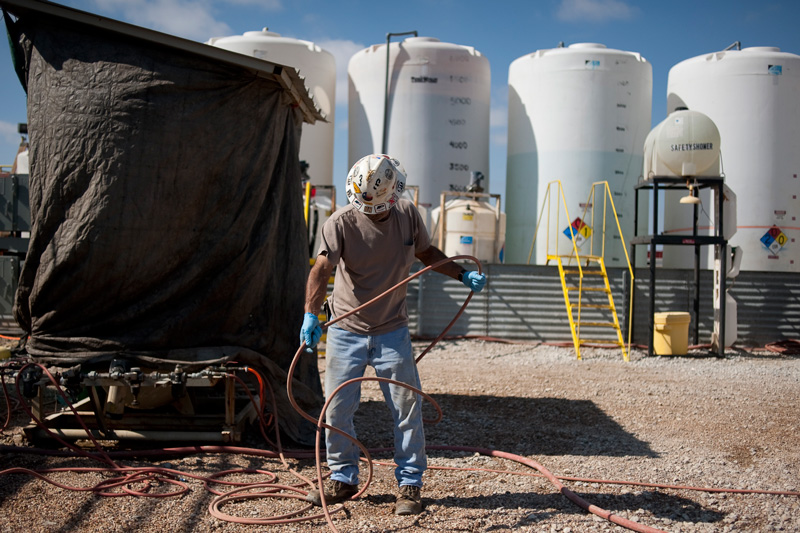 After a lengthy discussion, the Texas Senate unanimously passed a bill Wednesday that would require drilling companies using hydraulic fracturing, or "fracking," techniques to disclose on a public website the chemicals they use in the process.
The bill is "going to be landmark legislation on the hydraulic fracturing nationwide," said Sen. Troy Fraser, R-Horseshoe Bay and chairman of the Natural Resources Committee.
Texas produces more natural gas than any other state in the nation.
The House has already passed similar legislation, although the Senate bill includes a giant amendment that would change the name and structure of the Railroad Commission, the state oil and gas regulator. This means it could be more difficult to reconcile the House and Senate versions of the fracking disclosure bill in conference committee, which is the next step in the process.
The Texas Tribune thanks its sponsors. Become one.
An amendment to the bill brought by Sen. Glenn Hegar, R-Katy, would have delayed implementation of the disclosure requirement for six to 12 months, but it was voted down. Disclosure will be required starting in January 2012. But the main bill contains provisions that will allow companies like Halliburton that make fracking fluid, which is a mixture of water, sand and chemicals, to keep "trade secrets" off the public website, fracfocus.org.
Three amendments authored by Sen. Wendy Davis, D-Fort Worth, were voted down. They would have required studies of issues like the possibility of using a tracer in fracking fluid to make it potentially easier to sort out any water-contamination allegations.
Fraser and other state lawmakers have said Texas would be the first state to implement such a comprehensive disclosure requirement. It bears noting, however, that Wyoming implemented disclosure requirements for hydraulic fracturing last year, and a few other states, including Arkansas, also have some degree of disclosure requirement. In Wyoming, well-by-well information of what chemicals are in the fracking fluid must be disclosed on a public website, according to Thomas Doll, an official with Wyoming's Oil and Gas Conservation Commission. Wyoming also has provisions to protect trade secrets.
However, Texas may be the first to do this in statute — and it would take further analysis to determine which requirement is more comprehensive, Wyoming or Texas.
"I really believe this [bill] is going to be a template for the entire nation," said Sen. Jane Nelson, R-Flower Mound, the original sponsor in the Senate.
Texas Tribune donors or members may be quoted or mentioned in our stories, or may be the subject of them. For a complete list of contributors, click here.