Overshadowed, Med Schools Face Drastic Reductions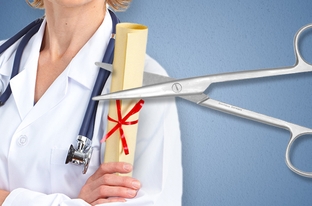 Enlarge
Illustration by Todd Wiseman
Texas medical schools feel like the scorned children of the state's education budget. Lost amid the pleas of parents to restore funding for public education, and the demands of college students to preserve financial aid, the state's health care institutions say few seem to understand the drastic situation they face.
At a time when Texas is grappling with a dire — and growing — physician shortfall, medical schools say they won't be able to fully fund the roughly 5,600 students currently enrolled, and could be forced to curb new admissions next year.
"We are looking at the full threat of cuts," said Dr. Nancy Dickey, president of the Texas A&M Health Science Center and the A&M System's vice chancellor for health affairs. "We have been trying to assure ourselves that someone understands the depth of the predicament we're facing."
That predicament is an estimated 20 percent cut in state funding across Texas' nine medical institutions over the next biennium — the result of a 5 to 10 percent cut in formula funding, and the loss of tens of millions of dollars in federal stimulus dollars. Medical schools, which have spent the last several years ramping up their programs to address Texas' — and the nation's — physician shortage, say they are poised to lose roughly $500 million combined in 2012-13, and to see state payments for medical education drop by more than $12,000 per student per year. They're also looking at a 25 percent reduction in funding for so-called "special items" that support specific education and research initiatives.
But with their funding lumped into Article III (the giant education portion of the state budget) versus Article II (the health care section), medical schools say they have little negotiating power, and few saviors. With the budget already far short of what's needed to adequately cover elementary classrooms, preschools and college financial aid, medical schools say that in the off chance that spare dollars become available, they aren't in a good position to siphon them off.
"The challenges the health related institutions are facing is that all the attention is targeted toward public education," said Tom Banning, chief executive of the Texas Academy of Family Physicians.
The medical schools do have allies on the budget conference committee. The A&M medical school is in Senate Finance Chairman Steve Ogden's Bryan district; Texas Tech has Lubbock Sen. Robert Duncan. Sen. Florence Shapiro, R-Plano, who is advising the budget conference committee on education issues, said there is "some movement" on the health-related institutions but that nothing has been resolved yet.
"It's absolutely a viable working document at this point," she said of Article III — the only major section of the budget not to get firmed up Monday night.
But when money is tight, public education often takes priority over higher ed, where the perception is that costs can be defrayed by tuition hikes. Health-related institutions are also feeling something of an empathy void these days, as Republican state leaders debate the merits of research spending in higher education.
At Texas A&M, Dickey said, there are 274 new medical students weeks away from starting who won't be funded under the expected cuts, meaning the health science center will have to use all of its reserves to cover them. "It would be cruel and unusual to send them a letter and say, 'Oops, sorry,'" said Dickey, who worries A&M could be forced to reduce clinical teaching contracts instead. "At the end of the day, we may have to talk about the size of the class that can be enrolled next year."
But shrinking class sizes would fly in the face of the directive the nation's health-related institutions received from the Association of American Medical Colleges in 2006, challenging them to increase enrollment 30 percent by 2015 to try to address the physician shortfall. A&M and every other school in Texas have begun significant enrollment expansions, Banning said, which has increased faculty and facility costs at the same time lawmakers are turning off the faucet.
"You've heard Gov. Perry talk about the extraordinary growth we anticipate in the coming decade," Dickey said of A&M's most politically prominent alumnus — an ardent proponent of reeling in spending. "We already have a shortage of doctors with our existing population. [The cuts] will have an impact on every citizen of this state."
Texas Tribune donors or members may be quoted or mentioned in our stories, or may be the subject of them. For a complete list of contributors, click here.