House Debates Anti-"Obamacare" Bills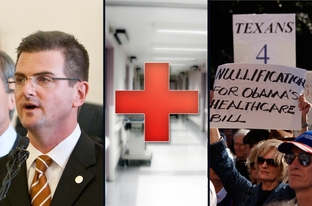 Enlarge
Illustration by Marjorie Cotera/Bob Daemmrich/Todd Wiseman
In their latest effort to remind Washington how much they hate federal health reform, House lawmakers gave early approval tonight to one measure to hold "Obamacare" at bay and deflected, at least temporarily, another that is directed at the individual mandate for health insurance.
Republican Rep. Brandon Creighton's HB 32 states that no Texan be required to purchase health insurance — a slam at a rule in federal health reform that requires all Americans to be insured or face penalties. GOP lawmakers argue that's a ridiculous burden on individual rights; their opponents say a state law can't overturn a federal one. That measure was stalled on a technicality Wednesday night.
Meanwhile, Republican Rep. Mark Shelton's HB 335 requires a state agency to seek a fiscal analysis from the Legislative Budget Board before implementing any piece of federal health care reform. This is an effort to keep close track of any of the costs associated with "Obamacare," which its opponents fear will bankrupt the state. That measure won tentative approval from the House.
The bills are just two of the many filed this legislative session. Meanwhile, Gov. Rick Perry has rejected efforts in Texas to implement portions of federal health care reform while the measure, which is the subject of several high profile lawsuits, works its way through the legal system.
Texas Tribune donors or members may be quoted or mentioned in our stories, or may be the subject of them. For a complete list of contributors, click here.