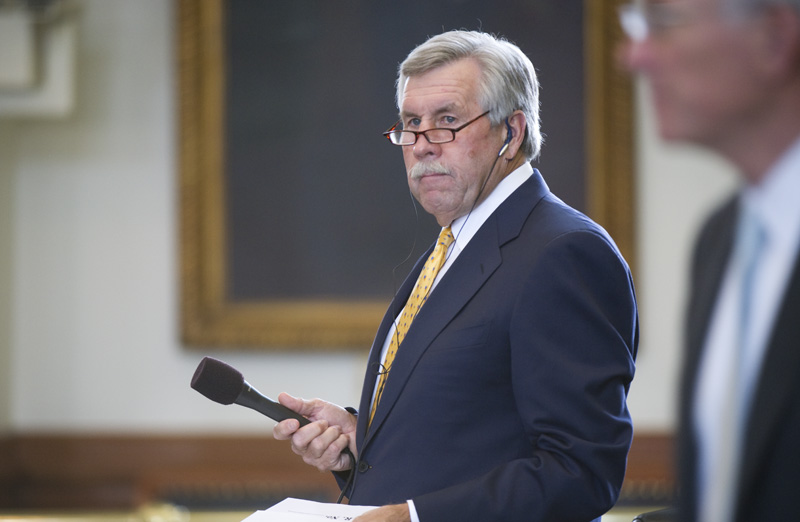 The state Senate today approved a conference committee report on the voter identification bill that includes changes that would allow citizens to use a new form of documentation to cast their ballots. The report must get OK'd in the House before it heads to the governor for a signature.
The original bill, SB 14, would require people to show a photo identification, such as a driver's license or concealed handgun license, instead of the current voter registration card, in order to vote. Gov. Rick Perry declared the issue an emergency item earlier this session. The Senate passed the bill by Sen. Troy Fraser, R-Horseshoe Bay, in late January, and the House passed its version nearly two months later.
"The Texas Senate has taken a stand for free and fair elections by again passing Voter ID," said Lt. Gov. David Dewhurst in a statement to the press.
The new resolution included changes that would allow citizens to vote with a free Department of Public Safety-issued photo election ID. The election certification will expire just like a driver's license, except for people ages 70 or older. Senators adopted the resolution today in a 19-12 vote after some Democratic members raised concerns.
The Texas Tribune thanks its sponsors. Become one.
Sen. John Whitmire, D-Houston, questioned Fraser about the long wait and distances some voters would have to travel to receive the election certificate from a DPS office. "I would think the right to vote may not be as high a priority as the sonogram bill, but I would think it would be almost as important," Whitmire said. He said there may be unintended consequences that may infringe on people's right to vote.
Fraser said he has asked DPS to review the issue and attempt to address it. "Obviously we're doing everything we can," he said.
The resolution would also require voters who have a religious exemption to being photographed to present an affidavit before casting their ballot. If voters do not meet the identification requirements, they can show a form of identification or an affidavit before the sixth day after Election Day.
Texas Tribune donors or members may be quoted or mentioned in our stories, or may be the subject of them. For a complete list of contributors, click here.