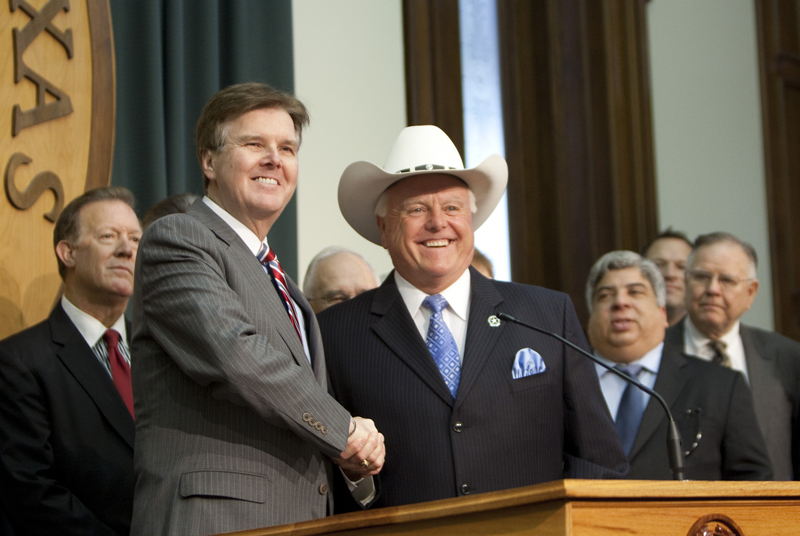 Rep. Sid Miller, R-Stephenville, and Sen. Dan Patrick, R-Houston joined forces this morning to ask the House to accept all of the Senate's amendments to the abortion sonogram bill, virtually ensuring it's headed to Gov. Rick Perry's desk.
"This will be one of the strongest sonogram bills in the nation," Miller said.
If the full House concurs with the Senate version of House Bill 15 — likely, considering this morning's press conference, abortion sonogram will be the first emergency item to reach Perry for a signature. "I may be inspired to wear my cowboy hat," Patrick said, referencing Miller, who wears his signature hat around the Capitol.
As currently written, HB 15 would require a woman to receive a sonogram and listen to a description of the fetus. The woman could choose or refuse to view images and hear the heartbeat of the fetus. If one out of five women changes her mind about having an abortion, Patrick said the bill could save 15,000 lives a year. "This is a great day for Texas. This is a great day for women's health. This is a great day for the pro-life movement," he said.
The Texas Tribune thanks its sponsors. Become one.
Some notable changes were made to HB 15 in the Senate: Women 100 miles or more from the nearest licensed abortion provider only have to wait two hours, rather than 24 hours, after the sonogram to have an abortion. Victims of rape or incest are now excepted from the law.
"The heart of the bill that all of us agree on was [a] sonogram should be displayed so the woman could see," Patrick said. Patrick, who attempted to pass similar legislation in 2007, thanked Miller, his partner in the lower chamber, saying, "101 Republicans can sure make a difference in the House."
For a full description of the bill passed by the Senate, see here.
Texas Tribune donors or members may be quoted or mentioned in our stories, or may be the subject of them. For a complete list of contributors, click here.