Group Wants Investigation Into Texas Data Exposure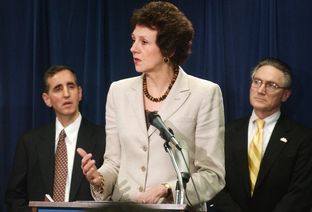 The Texas attorney general and the FBI are already investigating the accidental release of personal information by the comptroller's office. Now, an outside group wants to start its own investigation.
The Texas Civil Rights Project has filed paperwork in Travis County District Court to conduct an investigation of the mishap, which exposed the personal information, including birth dates and Social Security numbers, of about 3.5 million Texans. That would include getting depositions from Comptroller Susan Combs and representatives of the Teacher Retirement System, the Employees Retirement System and the Texas Workforce Commission.
"And it may well lead up to litigation — I mean, this is a first step," said Jim Harrington of the Civil Rights Project. "Some of the facts are not clear. Like, she blames the Texas Retirement System; the Texas Retirement System blames her. So we have to find out exactly who should be the defendant if we go ahead and file the case."
Audio: Ben Philpott's story for KUT News
The comptroller and the others involved have 15 days to decide whether they will submit to a deposition. If they refuse, Harrington will ask the court for the right to conduct the interviews.
Since Combs' announcement of the data breach earlier this month, she has fired four workers, taken additional steps to secure data systems and negotiated discounted subscriptions to credit monitoring services.
But Harrington said that's not enough. "The comptroller has already cost the taxpayers $1.8 million because of her mistake, or her incompetence," he said. "And the question ought to be why she doesn't step up to the plate and pay for this out of her own pocket."
In a statement released Tuesday, Combs again apologized for the data accident, saying, "My office is taking aggressive measures to help ensure that personal identification information is safeguarded." Combs said she could not comment on any pending litigation but would work with the attorney general's office to provide it with any information it needs.
Texas Tribune donors or members may be quoted or mentioned in our stories, or may be the subject of them. For a complete list of contributors, click here.